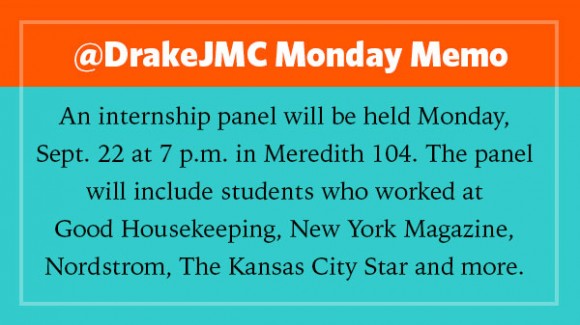 Faculty and staff notes
Associate Professor Lori Blachford, Fisher-Stelter chair of magazine journalism, has written the introductory essay for the Journal of Communication Inquiry, produced by the University of Iowa. The theme for the edition of the journal is LGBTQ research.
Associate Professor Lee Jolliffe will present a panel at the Symposium on the 19th Century Press, the Civil War, and Free Expression in Chattanooga, Tenn., in November.
Associate Professor David Wright and Assistant Professor Kelly Bruhn will travel to Washington, D.C., in November for the Journalism Education Association convention of high school journalists.
Bruhn and Assistant Professor Jennifer Glover Konfrst will be in D.C. in October, along with a group of public relations students, to present research and accept their CEPR accreditation at the Public Relations Society of America International Conference.
Assistant Professors Jill Van Wyke and Jeff Inman will travel to Chicago later this month for the Online News Association conference; Van Wyke has been chosen to work as a mentor in the student newsroom at the conference. Van Wyke is giving two presentations at the Associated Collegiate Press/College Media Association conference in Philadelphia in late October.
Get going
Applications are now being taken for Drake's 2015 PRSSA Bateman Case Study Competition Team. PRSSA members and potential members can now apply for the national competition, which brings what students are learning in the classroom into real world case studies.
Interested students should submit a cover letter and resume to Jennifer Glover Konfrst by 11:59 p.m. Friday, Sept. 26. Materials can be emailed to Jennifer.gloverkonfrst@drake.edu or dropped off to her office, Meredith 110.
Jobs hub
An internship panel will be held Monday, Sept. 22 at 7 p.m. in Meredith 104. The panel will include students who worked at Good Housekeeping, New York Magazine, Nordstrom, The Kansas City Star and many more. Find out how they got the internships they did, and how you can too.
Check it out
Campus and local news is available online through Drake Digital News. Drake student produced text, audio and video stories are published on the website, DrakeDigitalNews.com.
SJMC round the world
SJMC students and alumni are working and studying abroad in increasing numbers, and as writers it is only natural that they often create blogs to keep friends and family up-to-date on their activities. Check out some updates from the road…
Erin Hassanzadeh, JO'14, is a Fulbright scholar teaching in South Korea:
Lauren Grabau is a junior advertising and politics major studying in Scotland this semester:
Have items to submit to the Monday Memo? Send them to Kathleen Richardson (kathleen.richardson@drake.edu) or Carla McCrea (carla.mccrea@drake.edu). Deadline is Friday for the next week's Memo.