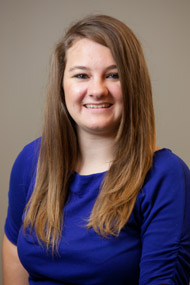 The Iowa Commission on Volunteer Service (ICVS) announced the selection of Courtney Howell as the August 2014 Iowa AmeriCorps Member of the Month. Howell is finishing up her year of service at Drake University as a part the Iowa Campus Compact VISTA project. Howell's role as a service-learning ambassador has afforded her the opportunity to work with programs such as Dress for Success Des Moines and Drake's service-learning program, where she has assisted with meeting real needs in the community.
"We are very grateful for having Courtney as part of the service-learning team at Drake," says Mandi McReynolds, director of community engagement and service-learning. "Drake has a commitment to celebrating and expanding service in the state. Our president, David Maxwell, is co-chair of the the Governor's Advisory Council for National Service, and Courtney is one of many of our alumni who have dedicated themselves to service and community."
Howell's impact on Drake and the Des Moines community has been far reaching. At Drake, she has used her talents to organize various service-learning events, apply for numerous grants and awards, and helped with the creation of an annual fundraising event for Dress for Success Des Moines. Prior to Howell's VISTA year, she earned two bachelor's degrees in sociology and politics. Now that her VISTA year has come to an end, Howell plans to pursue a master's degree in higher education from Marquette University.
"Higher education has the ability to enact social change through empowering students," says Howell. "Not only do we work with students to understand the underlying social issues, but we connect them to non-profit partners to create change in our communities."
For more information, contact Mandi McReynolds at mandi.mcreynolds@drake.edu or 515-271-2338.
About AmeriCorps
AmeriCorps is a network of domestic national service programs that provide over 80,000 service positions annually. Individuals who join AmeriCorps perform voluntary service in communities across the United States, including over 1200 members who serve in Iowa. Celebrating its 20th anniversary this year, AmeriCorps is a cost-effective solution to America's toughest problems. Since its inception, more than 820,000 men and women have taken the AmeriCorps pledge, serving more than one billion hours to address our country's critical needs in education, economic opportunity, health, and the environment.
About the ICVS
The Iowa Commission on Volunteer Service (ICVS or Volunteer Iowa) and its partner agencies work with organizations and individuals on three main fronts. The first is to help agencies develop quality programs that use service as a strategy to fulfill their missions and address Iowa's greatest areas of need. The second is to help engage Iowans in their communities by promoting service and expanding the volunteer base. Finally, the third area of work is to connect individuals with appropriate service opportunities by building the volunteer infrastructure. Visit www.volunteeriowa.org for more information.