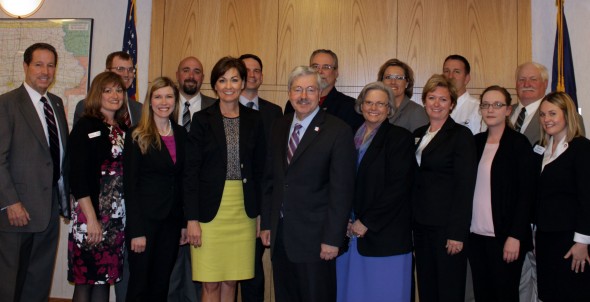 Gov. Terry E. Branstad, along with the Iowa Commission on Volunteer Service, announced yesterday the members of the Governor's Council on National Service in Iowa. Drake University President David Maxwell was selected to serve as co-chair.
Branstad established this council by issuing Executive Order 84 to make recommendations on how to expand volunteer opportunities and national service for Iowans both in Iowa and across the country.
The council's members represent a variety of public and private organizations with the common goal of identifying existing and new policy to support service opportunities, develop public-private partnerships encouraging volunteerism, and streamline the certification process for qualified agencies, among other goals as established by the council.
The members of the council include:
Chair: Donna Harvey, Denver
Co-Chair: David Maxwell, Des Moines
Tiffany Tauscheck, Clive
Leah Rodenberg, Marion
Ali Wilson, Ottumwa
Douglas Elam, Cedar Rapids
Ryan Wise, Des Moines
Richard Leopold, Des Moines
Jon Kruse, Storm Lake
Emily Shields, Des Moines
Robin Habeger, Urbandale
Lori Smith, Indianola
Barbara Mittman, Nevada
Michelle Balek, Dubuque
Vicki Hover-Williamson, Des Moines
The council will report its final recommendations as of February 1, 2015, or upon the completion of its work. The members of this council are not Senate confirmed and will not receive compensation for their service.