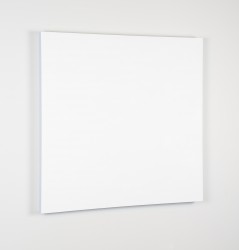 For two weeks Myriah Kolar worked the canvas, applying nine different layers of gesso, sanding in between each one, removing all brushstrokes, leaving no evidence of the artist. A final layer of white acrylic paint was subtly framed by four hues of pale blue casting shadows from the sides of the painting. When hung in Weeks Gallery in the Harmon Fine Arts Center last spring, a large floodlight cast the viewer's shadow onto a seemingly blank canvas, the artwork uniquely transformed by each visitor.
"It brilliantly portrays the intricacies of my research," says Tim Knepper, associate professor of philosophy and department chair, whose inquiry and publication has explored mystical language, "how [theologians] talk about things they say they can't talk about."
Knepper has studied, translated, and wrestled in both his dissertation and a recently published book with the written work of a 6th-century philosopher. He shared one of Dionysius the Areopagite's ancient texts—and the complex idea of ineffability—with Kolar and other painting students last year as an annual installment of the Professor Project. Each fall for the past 10 years, Angela Battle, professor of art, has asked her students to nominate professors in other disciplines whose scholarship is of interest. With her guidance, they narrow down the selection to one; past visiting scholars have introduced students to black holes, social location, minimalist poetry, orangutan communication, and more.
Last fall's painting students discussed and journeyed into unfamiliar territory, the idea of experience that cannot be expressed or described in words, the challenge of leaving behind everything they know, of approaching a slice of life without putting it in context. The resulting artwork that emerged was diverse. Realism and abstraction. A triptych of painted landscape, an installation of multidimensional mixed media. Some students found expression in light and shadow, some in shape, some in Christ figures. Myriah Kolar chose everything.
"While black is the color of nothing, white is the color of everything," says Kolar, ED'14, describing the physics of visible light in which black absorbs all colors and reflects nothing back to the human eye while white reflects and is the presence of all colors. "It was a hard move to do just a white canvas. People think you weren't motivated. I realized this was the only thing I was comfortable doing, and I took a leap."
Exposing art students to issues and ideas outside their academic focus helps them develop as artists, says Battle. Inspiration and creation don't happen in a vacuum. Art doesn't emerge from and exist only in the studio. "Artists work with the world at large. They bear witness to our times," she explains. "'Look around you. Pay attention to what you pay attention to,' I like to remind my students."
Knepper says the experience was valuable for his students as well. "Here's something we'd been talking about abstractly for three months. Then we got to see how others interpreted," he says. "Anytime students can see what's happening within the walls of another classroom, it's a rewarding, enriching opportunity."
Kolar says her Drake experience heightened not only her artistic skillset but also her art appreciation—discovering art as another means of communication. "Language holds so much power," she says. "Art is a language in itself."
Kolar's Ineffability was selected for the 43rd Annual Juried Student Art Exhibition, held in Anderson Gallery last spring. Faculty from the Department of Art and Design chose the painting to receive this year's Provost Purchase Award. The canvas is currently displayed in the Office of the Provost and will become part of the University's permanent collection.