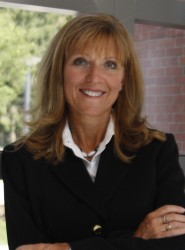 Renae Chesnut, professor of pharmacy practice and associate dean for academic and student affairs at Drake University's College of Pharmacy and Health Sciences, was awarded Lambda Kappa Sigma's (LKS) Merck & Co. Vanguard Leadership Award for her exemplary contributions to pharmacy practice and professional organizations, along with service to others, innovation and entrepreneurial spirit. . Chesnut was presented the award at the LKS annual convention in Naples, Florida on Thursday, July 24.
Chesnut, often recognized for going above and beyond for students and the profession, has served in several leadership roles within the profession and been involved in a number of college initiatives. She is a past-president of the Iowa Pharmacy Association and has been instrumental in promoting entrepreneurial leadership and innovation within the profession of pharmacy through the efforts of Drake's DELTA Rx Institute.
"It was an honor to nominate Dr. Renae Chesnut for this award," says Gloria Bernstein, PH '78, pharmacy manager for the Hy-Vee on Fleur Drive in Des Moines. "Ever since Renae was a student and I met her while serving as a regional supervisor for LKS, I knew she had potential for greatness and a passion for the profession of pharmacy. Her accomplishments in the profession are countless."
Known as an avid mentor, it is no surprise that Chesnut was involved in helping three former Drake pharmacy students reactivate the Nu chapter of LKS in 2006. Chesnut assisted the students in identifying a faculty advisor and has remained supportive of the LKS initiatives, helping to identify funding sources for their philanthropies, including the establishment of the first-ever HOPE waLKS, a 5K that raises money for Project HOPE —an event that has been adopted by other chapters across the country.
"It is a highlight of my career to receive this award from an organization that played a tremendous role early in my leadership development," says Chesnut. "Receiving a national award of this caliber is a testament to the opportunities that I have been able to pursue in the pharmacy profession and at Drake, an institution that values leadership development, innovation, and entrepreneurial leadership."