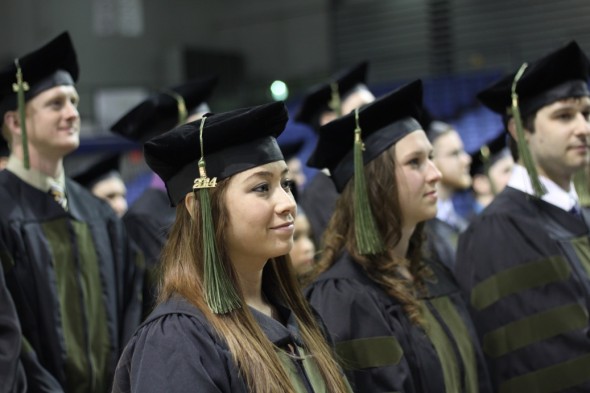 Upon completion of four rigorous yet rewarding years in Drake's prestigious professional pharmacy program, more pharmacy students than ever are entering some of the top residency programs in the country, despite increased competition. Nationally, the national number of graduates securing a PGY1 (post-graduate year) residency position is 64 percent, while 85 percent of Drake graduates earn residency placements. We sat down with two P4 students, Nisha Patel and Brian Wall, who shared with us how their Drake education helped them land top residencies and why they feel so prepared to tackle this next chapter.
"I have heard over and over again from many of my preceptors that Drake students have impeccable communication skills," says Patel. "In my experience in working with students from other colleges of pharmacy, I've noticed that Drake students are typically more professional and willing to go above and beyond to meet and exceed preceptor and patient expectations."
Patel, who just wrapped up rotations in Honolulu, Hawaii, will soon begin her residency at The Johns Hopkins Hospital in Baltimore, Maryland. She will be completing a combined PGY1/PGY2 pharmacotherapy residency. The program allows residents to tailor their second year to their own interest area, permitting a focus on more than one area of practice throughout the two-year program.
"Drake puts a strong emphasis on experiential learning, which exposed me to a number of different practice areas, so I'm excited that my residency will provide that same type of opportunity," says Patel. "I think it's important to explore various areas of interest to make an informed decision about what area of pharmacy you plan to pursue for your career."
Brian Wall will be starting a yearlong residency with the American Pharmacists Association (APhA) Foundation. Wall credits Drake faculty for his success throughout the residency interview process.
"The college held mock interviews, which were incredibly beneficial," says Wall. "The support I received from faculty and other mentors in the college has been undeniably important."
Residency Placements 2014
Alexandra Arends, Indiana University Health
Kimberly Askren, Gundersen Lutheran Medical Center
Alicia Atwell, Creighton University Medical Center
Erin August,Monroe Clinic
Jenna Bender, University of Iowa Hospitals and Clinics
Theodore Berei, Northshore University Health Systems
John Beyer, University of Iowa Health Care
Donald Bladt, Avera McKennan Hospital
Shawn Blakeman, Iowa Methodist Medical Center
Brittany Boldt, St. Louis VA
Elizabeth Cady, University of Kentucky Healthcare
Emily Den Beste, Presence St. Joseph Medical Center
Kelsey Gander, University of Minnesota
Meron Gartner, Outcomes MTM
Allison Gibble, Froedtert Hospital
Emily Hansen, Aspirus Hospital
Emily Hanson, St. Louis College of Pharmacy
Elizabeth Isleb, VA Nebraska Western Iowa
Heather Johnson, Akron General Hospital
Kimberly Kaufman, Mayo Clinic Hospital
Erin Kelley, Maine Medical Center
Logan Koch, Providence St. Vincent Medical Center
Daniel Litzenberg, Wheaton Franciscan St. Joseph's Hospital
Emily Luecht, Truman Medical Center
Leah Marschall, The Nebraska Medical Center
Eric Marsh, Clement J. Zablocki VA
Kaitlin McArdle, Hines VA Hospital
Courtney McCarthy, New Hanover Regional Medical Center
Emily Meyer, University of Iowa Mercy Family Pharmacy
Erika Milas, Indiana University Health
Samuel Miller , Aurora St. Luke's Medical Center
Sarah Moldenhauer, Aurora St. Luke's Medical Center
Kristin Morrison, VA of Central Iowa
Kristen Neumeister, St. Louis VA
Brittany Parmentier, Community Health Network
Nisha Patel, John Hopkins Hospital
Dipale Patel, Northshore University Health Systems
Ellen Prichard, Aurora Health Care
Nicole Quandt, Mercy Medical Center
David Reeb, Gundersen Lutheran Medical Center
Jennifer Rinehart, Presence St. Joseph Medical Center
Lauren Schmidt, Aurora Health Care
Pinal Sheth, Northshore University Health Systems
Sara Sladky, Aurora St. Luke's Medical Center
Kristin Stein, University of Minnesota Medical Center
Tiffany Trumbo, Saint Luke's Hospital
Dyson Wake, Memorial Hospital
Brittany Yang, Heartland Regional
Fellowship Placements 2014
Anokhi Patel, Eli Lilly and Company
Thomas Walters, Xcenda Consulting