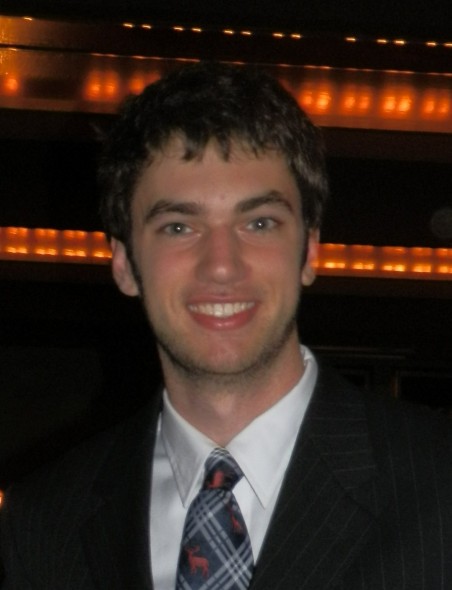 On Sunday, May 18, Drake said farewell to another graduating class, among them Adam Riesselman, AS'14, the 2014 Oreon E. Scott Award winner.
The Oreon E. Scott Award recipient is considered to be the most outstanding senior student at Drake. Excellence in scholarship, leadership, service, and involvement are all hallmarks of the Oreon E. Scott Award winner.
You may have heard of Riesselman before. (Does "The Next Norman Borlaug" ring a bell?) Earlier this year, Riesselman was invited by the World Food Prize—created by Borlaug in 1986—to attend the unveiling of a statue depicting Norman Borlaug. The statue in National Statuary Hall commemorates Borlaug's commitment to addressing world hunger through scientific research.
Riesselman's work with the World Food Prize began as a sophomore in high school when he completed a research paper for the organization on biofuels in Colombia and conflict resolution. During his senior year, Riesselman wrote for the World Food Prize again and attended the Global Youth Institute in Des Moines, where he was selected for a Borlaug-Ruan internship in Mexico.
Since arriving at Drake, Riesselman has remained involved with the organization through other leadership and internship opportunities. Each October he participates in World Food Prize Week, leading groups of students in discussions about critical issues such as poverty alleviation and food insecurity.
Riesselman is known to campus for his extraordinary leadership, service, and high academic achievement. His honors and awards include:
• DuPont-Pioneer Intern Grant Award (2013)
• Dr. William Homer & Florence Coppock Chemistry Research Award (2013)
• Drake University Greek Life Outstanding Community Service Award (2013)
• Biochemistry: Cell and Molecular Biology Sophomore Student of the Year (2012)
• ACS Organic Chemistry Student of the Year (2012)
• John Crystal Award, The World Food Prize (2011)
• First Year Achievement in Chemistry, Drake University (2011)
• George A. Carpenter Scholarship Recipient
Riesselman was also one of two Drake students to receive the prestigious Goldwater Foundation Scholarship in 2013. The scholarship is for students pursuing careers in mathematics, natural sciences, and engineering.
After graduation, Riesselman will continue his studies at Harvard on the Department of Energy Computational Science Graduate Fellowship. Riesselman hopes to use his academic background to understand science and biology through computational tools.