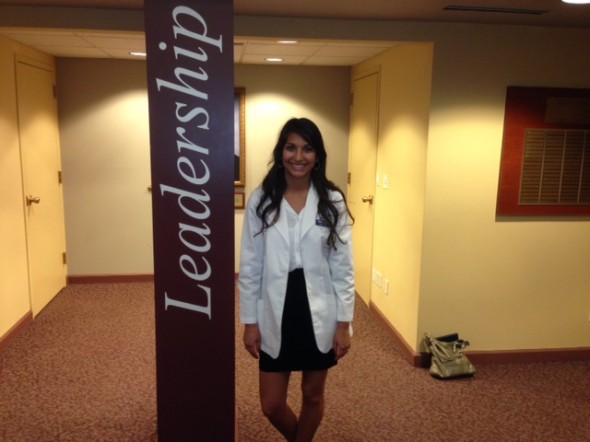 The College of Pharmacy and Health Sciences recognizes that enhancing and growing scholarships is vital to the recruitment and retention of all students, including those who complete their pre-pharmacy programs elsewhere.
Thanks to generous donors—like Brian Reisetter, PH'85, GR'87, and Patrick, PH'84, and Annette, AS'85, Verdun—the College is able to offer competitive scholarships to students who are interested in pursuing the professional pharmacy program; a personalized and intimate program that current students say is unmatched by other universities.
"I initially thought there's no way I'm moving to Iowa," says Andrea Gomez, a P1 from St. Louis who transferred from the University of Missouri–Columbia last August. "But when I came to campus for my visit, it was by far my favorite. Everyone was really friendly, and the entire experience was very personalized. I met with a professor, a current student, a graduate—they made me feel right at home."
When Patrick Verdun and his wife Annette first had a conversation about giving back to the college, they were thrilled to learn that the priority areas matched their own personal values and interests. Both Patrick and Annette graduated from Drake and have a deep sensitivity to the cost of an education. Growing up in rural Ilinois, Patrick never imagined the doors his Drake education would open for him.
"My first time in an airplane was because of Drake—I flew from Chicago to New Jersey for my summer internship with the National Pharmaceutical Council in 1982," says Patrick. "I'm really grateful for the opportunities Drake provided me."
The Verduns were able to work with the college to create a scholarship that has had an immediate impact on students, and has helped enhance the diversity of Drake.
Interested in starting a scholarship fund for pharmacy students? Contact Paul Secord at 515-271-2849 or
j.paul.secord@drake.edu
.
Brian Reisetter also found a way to pay it forward by creating a scholarship for professional pharmacy students. Reisetter has stayed connected with the college through friends and colleagues at Drake and in the Des Moines area. He and his business partners at Medical Marketing Economics LLC are passionate about charitable giving, so when the opportunity arose to give back to Drake, Reisetter jumped at it.
"Drake has a really great program, and the college needs to be competitive to get students in the door," says Reisetter. "The experience they'll get from Drake is beyond worth it."
Gomez, who never thought she'd be able to afford the private college experience, says she quickly learned about the many scholarship opportunities at Drake.
"One of the reasons I choose to come to Drake was because of the scholarships," says Gomez. "Applying to a private school concerned me, so it was a huge relief—and a dream come true really—to learn that scholarships were a top priority for the college. Drake has been everything I expected it to be and more."