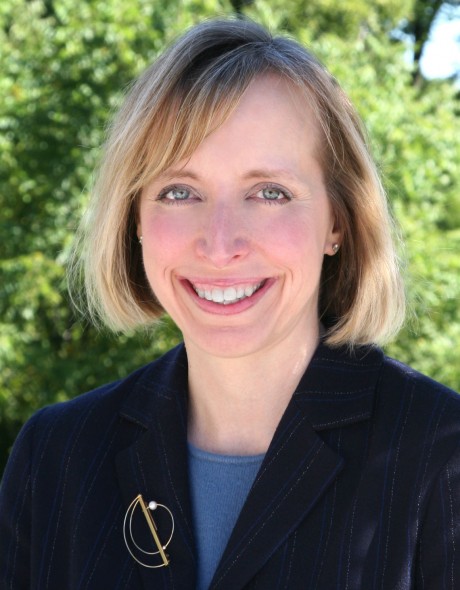 As a pharmacy student at Drake University, Melissa Murer Corrigan, PH'89, landed a job as a work study in the dean's office. She took pride in working with pharmacy faculty and administrators, and enjoyed getting to know the staff that worked tirelessly to keep the college operating at its highest level.
Dean Ronald Kluza requested a meeting with her one day, to talk about her career.
Kluza—Murer Corrigan recalls—had a commanding presence, and didn't interact often with students. Dean Kluza asked her something that would stick with her for life: "What are you going to do in pharmacy?"
His question for her—one she had heard many times before—hit her entirely differently that day. He wasn't asking her if she was interested in community pharmacy or hospital pharmacy; he was asking how she planned to make a difference in the profession.
Murer Corrigan was invited to speak at Drake's graduate commencement this spring. She challenged the graduates to step up, lean in, and make a difference—just as Dean Kulza had encouraged her to do years ago.
So, she set out to do just that. Their conversation was life altering.
After earning her Bachelor of Science in Pharmacy, Murer Corrigan practiced as a community pharmacist for Walgreens in Chicago and later conducted marketing research with the American Red Cross.
"My first job out of college required me to float—I worked in 52 different stores—which turned out to be excellent preparation for me," says Murer Corrigan. "It allowed me to see a variety of patients, learn the importance of pharmacy teams, including qualified pharmacy technicians, and how to navigate changing work environments."
She went on to serve as the founding executive director and CEO for the Pharmacy Technician Certification Board (PTCB), which certifies more than 430,000 pharmacy technicians nationwide. There, she created strategic alliances with major pharmacy employers such as Walgreens, CVS, and Target, along with state boards of pharmacy.
"I feel like, I'm just a gal from Joliet, Illinois with a lot passion and support from parents who believed in education," says Murer Corrigan. "But, it all started by cracking the books and studying at Drake. And now I'm in a position to pay it forward, which provides me immense joy! I know firsthand the importance of scholarships and education, and I'm so happy that my husband, also a Drake graduate, and I have been able to create an endowed scholarship at Drake."
Today, Murer Corrigan serves as the vice president for K-Career Continuum Strategy at ACT in Iowa City, an independent, nonprofit organization that creates solutions to help people achieve education and workplace success. She is also an adjunct assistant professor in the pharmacy practice department at the University of Iowa, and serves on the Board of Directors for Innovate+Educate.
"Your foundation at Drake positions you for so many things, maybe things you haven't even thought of," says Murer Corrigan. "I've often been the only woman at the leadership table, but my background at Drake and my mentors helped me see that my future was bright and I could do anything. Why not?"
###
Melissa Murer Corrigan is the 2010 recipient of the Weaver Medal of Honor, the highest honor presented by Drake's College of Pharmacy and Health Sciences.