This spring, two College of Pharmacy and Health Sciences alumni, and one longstanding partner and supporter of the college, received National Alumni Awards given by Drake's National Alumni Association.
Jack Ellis, PH'57, Kirk Hayes, AS'58, and Felix Gallagher, PH'00 were all honored for their dedication to Drake, the pharmacy profession, and their communities.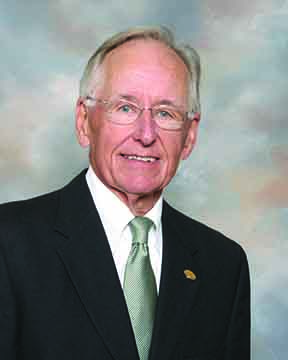 Alumni Achievement Award: Kirk Hayes, AS'58
Kirk Hayes began his college career at Drake in 1954. He was no stranger to Des Moines, having grown up only a few hours away in Algona, Iowa. Hayes never made an official visit to Drake prior to the start of his first year, but his interests in business and music led him to the University.
Following graduation from Drake, Kirk Hayes, was hired by Pharmacists Mutual Insurance Company/PMC—then Druggists Mutual Insurance Company—as an underwriter. He held several positions within the company including president and treasurer from 1975–2001, and was appointed chairman and CEO in 2001. Before starting his career with Pharmacists Mutual, Kirk was commissioned as a second lieutenant and spent five years in the United States Air Force as an intelligence and command staff briefing officer, and an additional 10 years as liaison officer for the United State Air Force Academy. Hayes has received numerous awards including the Calvin J. Anthony Lifetime Achievement Award by the National Community Pharmacists Association in 2011.
Distinguished Alumni Award: Jack Ellis, PH'57
When Jack Ellis started his college search back in 1951, he picked Drake based on its academic reputation and his love for the sciences. He also never visited campus until after he had been accepted.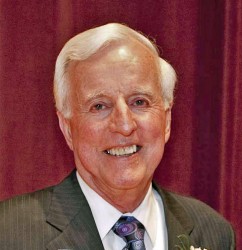 Ellis saw Pharmacy as a respectable career and a great tie to his interest in sciences. His pharmacy education prepared him for a career in industrial pharmacy, which almost accidentally became his career. It wasn't until his fourth year at Drake that he realized there were career opportunities in pharmacy other than in retail.
After graduation, Ellis began working at global health care and medical research giant Abbott Laboratories, retiring in 1992 as director of Abbott Park Pharmaceutical Operations. He was awarded the Weaver Medal of Honor from Drake University's College of Pharmacy & Health Sciences in 2011—the most distinguished award given by the college. Ellis has been a generous donor to Drake University, assisting in establishing scholarships, renovating facilities, and endowing the John R. Ellis Distinguished Chair of Pharmacy Practice.
Young Alumni Achievement Award: Felix Gallagher, PH'00
Felix Gallagher's route to Drake was much different than Ellis and Hayes. Growing up on the east coast in New York and Florida, Gallagher never dreamed he'd end up in Iowa. He had never heard of Drake University until his football coach suggested it.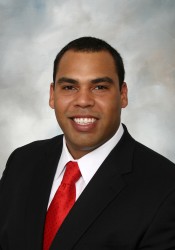 With a leap of faith, Gallagher stepped on to the tarmac at Des Moines International Airport. From the airport, Gallagher dropped off his stuff in his dorm room and toured the campus for the first time.
Gallagher is well known in his industry for launching PharmServ, a pharmacist placement service. In 2013 Gallagher landed a spot on the Des Moines-based Business Record's "Forty under 40" list, which recognizes young local business leaders who have demonstrated impressive career achievements and unparalleled community involvement. Gallagher is an active member of the League of United Latin American Citizens (LULAC), Council 307, and also serves as a board member for the March of Dimes and the Zeta Kappa Lambda Educational Foundation. He was recently appointed to the Drake University College of Pharmacy National Advisory Council.