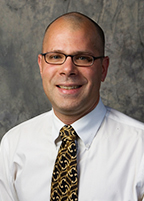 Drake University recently selected Timothy Knepper, associate professor of philosophy and department chair, to be the Ronald Troyer Research Fellow for 2014–15.
The fellowship was created in 2010 to recognize Ronald Troyer, who served as the University's provost for nine years.
"I am extremely pleased that Professor Knepper has been chosen for this award because of his proven record of diverse scholarly accomplishments in the area of religious discourse," says Drake University Provost Deneese Jones. "His most recent initiative, The Comparison Project, is an innovative effort in comparative philosophy of religion that includes both a biennial speaker series on comparative philosophical themes in diverse religious traditions and an exciting collection of digital stories. The digital stories focus on the 'Religions of Des Moines' and offer a unique perspective into the local practice of religion."
Knepper is director of The Comparison Project and teaches courses in philosophy of religion, comparative religion, late ancient Neoplatonism, and mystical discourse. He has authored The Ends of Philosophy of Religion (2013) and Negating Negation (2014). He is currently working on edited collections for the "Philosophy of Religion for Religious Studies" and "Discourses of Ineffability in Comparative Perspective."
"I am deeply honored and humbled to be chosen as this year's recipient of the Troyer Research Fellow Award," says Knepper. "I am so very grateful to work at an institution that supports and rewards research as much as Drake University."
The Troyer Fellowship carries a $5,000 stipend to cover one year of research-related expenses, including support of research assistants, equipment, travel, and materials.
Past Troyer Research Fellow honorees include:
Mark Vitha, associate professor of chemistry
Klaus Bartschat, Ellis and Nelle Levitt Professor of Physics
Jody Swilky, professor of English
Thomas Rosburg, professor of biology
For more information, contact Raylene Rospond at raylene.rospond@drake.edu or 515-271-3751.