Electronic Media seniors Frank Merchlewitz and Gwen Baumgardner won first-place student awards in Public Affairs and In Depth/Series for their 4-minute reports produced during fall semester's JMC73 Radio News class and aired on 94-1 The Dog.
Merchlewitz also won second place for his radio newscast.
2013 broadcast news graduate Noelle Smith took first-place General Reporting for her DrakeLINE story about potential Drake impacts of a national budget freeze. Smith works for Edelman PR in Washington, D.C.
Working professionals and students submitted 650 entries, a record number. Broadcast journalists in eight states judged the entries.
Awards were announced during the evening banquet program during which Judy Woodruff spoke about her trips to Iowa to cover politics. Woodruff, managing editor and co-anchor of the PBS NewsHour, earlier moderated the five-candidate Republican Senate debate.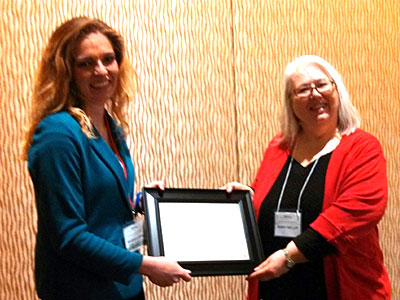 During the noon luncheon program, sophomore broadcast news major Mariah Lewis accepted the $500 Eliot Keller Scholarship "designed to recognize outstanding promise at an early career stage for a sophomore or junior." Lewis received her award from the Iowa City FM pioneer's widow, Janet.
The DoubleTree hotel in downtown Cedar Rapids hosted the May 3 convention.