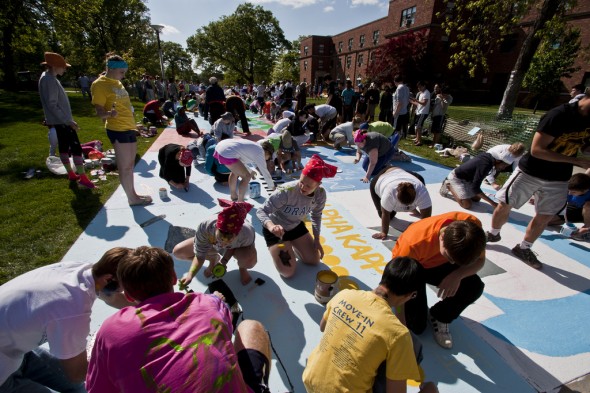 Drake's famous painted street met the prairie last weekend as American Public Media host Garrison Keillor debuted a musical tribute to strolling campus.
Keillor performed his unnamed tune during a broadcast of A Prairie Home Companion. The tribute, which can be heard in the embedded player below, sketches a multitude of fleeting moments that together portray an intimate portrait of Drake (and evoke some big laughs).
"It is so beautiful, so beautiful in Iowa in the month of May. Walking around Drake University on a Saturday, on Carpenter Avenue, also known as painted street," Keillor sings. "With the emblems of student groups painted on the pavement beneath your feet."
Later in the broadcast Keillor read poetry by Ames native Ted Kooser as Nicholas Roth, associate professor of piano at Drake University, contributed musical interludes by Edvard Grieg. The live program from the Civic Center of Greater Des Moines aired to more than 4 million homes across 600 public radio stations.
Keillor's fondness for Drake University may have developed in October 2011, when he delivered the 25th installment of the Martin Bucksbaum Distinguished Lecture Series. Thousands of people piled into the Knapp Center to hear Keillor's characteristically Minnesotan sense of humor and matter-of-fact style.