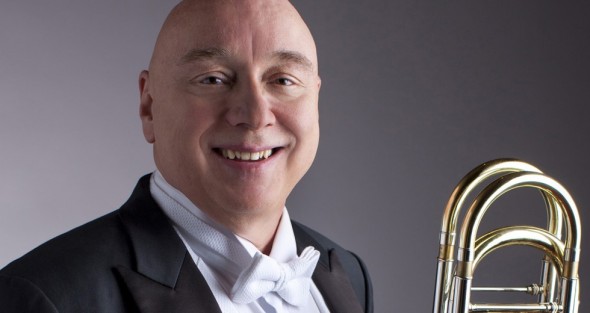 Chicago Symphony Orchestra trombonist Charles Vernon will visit Drake University Monday, May 5 and Tuesday, May 6 to present a master class and perform with the Drake Wind Symphony. Both events are free and open to the public.
Monday's master class will be held at 7:30 p.m. in Sheslow Auditorium. Vernon will teach the Chicago style of brass and wind performance known as "Song and Wind."
Tuesday's performance will be held at 7:30 p.m. in the Performing Arts Hall in Drake's Fine Arts Center. Vernon will perform "Chic-a-bone Check-out," a work written specifically for the Chicago Symphony by Christian Lindberg.
For more than 40 years, Vernon has been regarded as one world's finest trombonists. People flock from all over the world to Chicago to get a lesson with him or to hear him play, said Grady McGrannahan, associate professor of low brass.
"It's not every day a musician of Mr. Vernon's caliber comes to Iowa, let alone Des Moines," McGrannahan said. "He is a world-class performer and will bring a little bit of the Chicago Symphony's brilliance to Drake for all to enjoy."
Email Grady McGrannahan, grady.mcgrannahan@drake.edu, for more information.