April 23 marks World Book Night.  This annual celebration is dedicated to expanding the love of reading.  Each year on this date, people go out into their communities and give free World Book Night paperbacks to those who do not regularly read and/or people who do not normally have access to printed books. The authors of the books waive their royalties and the publishers agree to pay the costs of producing the specially printed World Book Night U.S. editions.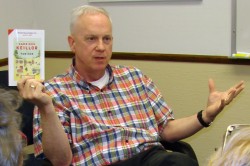 Michael Wellman, local author, learned about the Adult Literacy Center (ALC) through his spouse, Chris Wellman, a first grade teacher at Phillips Traditional School.  Chris Wellman is currently enrolled in the Master of Science in Literacy Education in the School of Education.  Wellman realized that adult new readers would be great recipients of World Book Night books.
"As the son of a public school librarian, the World Book Night was a natural campaign for me to get involved with. And when I saw Garrison Keillor's Pontoon on the list of titles for this year, that clinched it. He is perhaps my favorite author, a wise humorist in the mold of Mark Twain and Will Rogers. I can't think of anyone better suited to hook new readers and get them in the habit than GK. But, as an independent author myself, I also selfishly figure that expanding the pool of potential readers can't hurt. With any luck, giving some books away might help me sell some, too!" Wellman also donated copies of his autobiography, Far from the Trees, and Versus the Demons, a novel about baseball, to the ALC.
Several copies of Pontoon are available at the Adult Literacy Center if you would like a copy to share with someone who needs encouragement to be a reader.