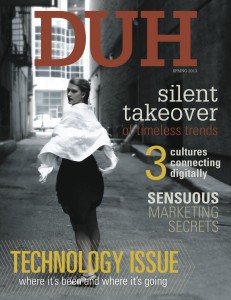 Four Drake University student magazines were finalists in the Society of Professional Journalists Region 7 Mark of Excellence Awards this year, and one—DUH magazine (Drake University Honors) —is advancing to the national judging.
The 2013 issue of DUH won the award for Best Student Magazine. Marina Shawd was editor of the publication, and Katie Minnick was art director. Jeff Inman served as faculty adviser.
Also a finalist in the Best Student Magazine category was the spring 2013 issue of Drake Magazine, edited by Jeff Nelson. Elyssa Yesnes was art director. Their adviser was Lori Blachford.
Two Drake magazines designed as iPad apps were named finalists in the Best Digital-Only Student Publication: Urban Plains and Think. Kerri Sorrell guided the Urban Plains team, Lindsay Susla was art director, and Jeff Inman adviser. Think's editor was Olivia Young. Rebecca Boneschans was art director, and Jill Van Wyke adviser. The winner of the digital category was the University of Missouri's Vox.
The regional winners were announced at the Region 7 conference in Overland Park, Kan., on April 26. The national awards will be handed out in May.
Region 7 includes schools from Iowa, Missouri, Kansas and Nebraska.
"The fact that our students are so successful in the publications categories speaks to their ability to managed the entire production process, not just tackle one article at a time," said Lori Blachford, the Peggy Fisher and Larry Stelter Chair of Magazine Journalism at Drake.
"I'm also delighted to see the students and faculty recognized for their work in digital production," Blachford said. "That has been a focus for us ever since 2010, when the first iPad was sold. By fall of that year, the first issue of the digital-only Urban Plains was an iPad app."