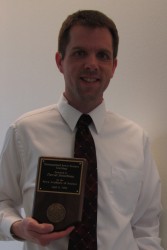 David Senchina, associate professor of biology, recently received the 2014 Iowa Distinguished Science Teaching Award from the Iowa Academy of Science. The award is given to educators for their innovative teaching practices at the post-secondary level.
Senchina was nominated for the award by current and former Drake students, as well as faculty and staff from Drake and other universities across the country.
Craig Johnson, director of the Iowa Academy of Sciences, presented Senchina the award at President's Banquet during the Iowa Academy of Science Annual Meeting. Johnson read excerpts from Senchina's nomination letters, highlighting his mentoring skills and genuine passion for helping students achieve their personal and professional goals. Senchina is known for his collaborative research approach; he often involves students in his research projects both in and out of the classroom. The student nominators shared how Senchina inspired them to pursue advanced science degrees.
Iowa Academy of Science promotes scientific research, science education, public understanding of science, and recognition of excellence in these endeavors.
For more information, contact David Senchina at david.senchina@drake.edu or 515-271-2956.