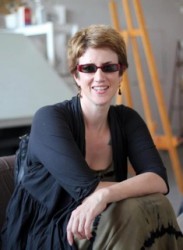 Joan Faber McAlister, associate professor of rhetoric at Drake University, was recently named editor of Women's Studies in Communication, an academic journal created by the Organization for Research on Women and Communication (ORWAC).
Women's Studies in Communication (WSIC) provides a forum for addressing the relationship between communication and gender. The journal has a 40-year history and is internationally known.
McAlister's role as editor is to encourage the development of new voices and new projects. McAlister has asked Drake students Maria Hanson, Derek Lewis, and Dylan Rollo to collaborate with her as editorial assistants for the publication.
McAlister earned her B.A. in anthropology and her M.A. in communication studies from Boise State University. She earned her Ph.D. in rhetorical studies from the University of Iowa. She has served as a chair of the American Studies and the Gay, Lesbian, Bisexual, Transgender, Queer Communication Studies Divisions of the National Communication Association, and as a member and chair of the Jane Jacobs Urban Communication Book Award Committee.
About ORWAC
ORWAC is a Western States Communication Association (WSCA) affiliate, publishes a journal: Women's Studies in Communication, and sponsors programs at the WSCA convention. The organization promotes dialogue, discussion, research, and scholarship concerned with women, feminism, gender, oppression, and social change.