In a time when the Internet brings the world to our fingertips, what does it mean to be a global citizen?
Salvador Leetoy, professor of communication and digital arts at Technológico de Monterrey in Guadalajara, Mexico, will explore that complex question in "Cosmopolitanism and Participatory Politics: The Construction of Global Citizenship in the Digital Era."
The free public lecture will be held at 7 p.m., Wednesday, April 9, in Cowles Library Reading Room on the Drake University campus.
"Many people within the global economy see the world as something they consume—that they use for their own leisure," said Darcie Vandegrift, associate professor of sociology at Drake. "They travel the world to create a new picture for their Facebook profile. Dr. Leetoy argues we need to make deeper, more informed, and empathetic connections with others."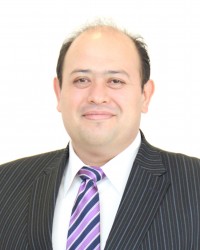 Leetoy will highlight a variety of social movements and creative digital initiatives that transcend national and economic concepts of citizenship.
A group of Drake University students met Leetoy during a January Term visit to Tec de Monterrey in Guadalajara. They enjoyed his teachings so much that faculty members invited him to speak to the Drake community, Vandegrift said.
Leetoy is the third Tec de Monterrey faculty member to lecture at Drake University since summer 2011 when the two schools met in Tanzania for the Global Kilimanjaro Bowl, the first official collegiate game of American football played on African soil. Previous lectures explored the representation of culture in documentaries about the Iraq War and the "cult of death" in Mexico.
"Cosmopolitanism and Participatory Politics" is sponsored by The Principal Financial Group Center for Global Citizenship, Drake Student Senate, Drake Center for the Humanities, Drake Department for the Study of Culture and Society, and the Research Group of Applied Ethics and Citizenship at Tec de Monterrey.
For more information, contact Darcie Vandegrift at darcie.vandegrift@drake.edu or 515-271-2840.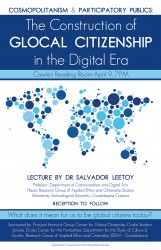 View/Download: Event Poster (PDF)