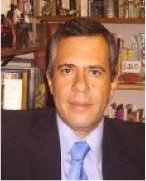 Historian, chronicler, and political analyst Eduardo Gonzalez Velázquez will present "The Collective Imaginary of 'The Cult of Death' in Mexico" on Wednesday, Oct. 31 at Drake University. The presentation will begin at 4 p.m. in the Medbury Hall Honors Lounge and is free and open to the public. The Principal Financial Group Center for Global Citizenship at Drake, World Languages and Cultures, and Center for the Humanities are co-sponsoring the event.
Velázquez is a professor at Tecnológico de Monterrey in Guadalajara, Mexico. His research in applied ethics and citizenship have received the highest levels of national recognition, and his current research focuses on migration from Central America to Mexico and the U.S. Beyond teaching, Velázquez is also a newspaper columnist and author. He received journalism awards in 2007 and 2009 and has recently published three books.
The event is part of The Principal Financial Group Center for Global Citizenship fall speaker series. For more information, contact David Skidmore at david.skidmore@drake.edu or 515-271-3843.