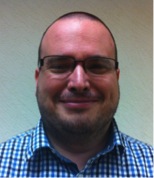 The Principal Financial Group Center for Global Citizenship will present "Representation and Representativity of Culture in Documentary Film: The Case of TV Documentaries about the Iraq War" on Tuesday, Oct. 30 at Drake University. Diego Zavala, professor of media and communications at Tecnologico de Monterrey in Guadalajara, Mexico, will deliver the lecture, which is free and open to the public. It will take place from 7–8:30 p.m. at Sussman Theater in the Olmsted Center.
Zavala teaches courses on screenwriting; video, TV, and film production; documentaries; image semiology; and film studies. His presentation will explore how documentary film is informed by the notion that representations in non-fiction assure representativity. Zavala will argue that documentarians often label individual experiences as a reflection of an entire community's thoughts on a given subject. He will also discuss the social use of documentaries to create public opinion, using the example of TV films about the Iraq War.
The event is part of The Principal Financial Group Center for Global Citizenship fall speaker series. For more information, contact David Skidmore at david.skidmore@drake.edu or 515-271-3843.