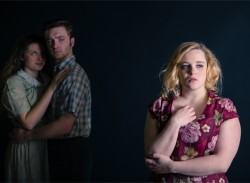 The Drake University Department of Theatre Arts presents A Streetcar Named Desire by Tennessee Williams. This critically acclaimed masterpiece transports its audience to 1940s New Orleans. Blanch DuBois, a former schoolteacher and socialite, has been forced to move in with her pregnant sister, Stella and her short-tempered husband, Stanley. Blanche's visit triggers a series of explosive events over the course of a steamy Louisiana summer.
The first show is Thursday, April 3 and the play will run until Sunday, April 6. Performances start at 7:30 p.m. April 3-5, and 2 p.m. on Sunday, April 6. All performances will be in the Performing Arts Hall in Harmon Fine Arts Center. Jason Bohon, visiting assistant professor of theatre arts, is serving as director of the show.
"As with all period pieces, A Streetcar Named Desire offers a glimpse into our own unique American history and allows us to see how far we've come, or not come," says Bohon. "Not only is it exciting to see how people lived, talked, dressed, ate, celebrated, and fought in 1947, but it encourages us to ask questions about change. Have we changed over the past of 67 years? And, if so, how? Do we struggle in the same way, or was life any easier? Despite the fact that the world is changing, are these people much different than we are now?"
In 1948, A Streetcar Named Desire won the Pulitzer Prize for drama, which sparked several Broadway revivals as well as film adaptations over the years.
"I have never seen this play onstage before, nor have I seen the 1948 film starring Marlon Brando. So, I can't compare it to other productions," says Bohon. "In some ways that's a good thing because I'm truly approaching the story from my own unique perspective. I'm trying to stay as true to the script as possible in terms of telling the story that Tennessee Williams wanted, but I'm also trying to tell that story for a contemporary audience, which means making it shorter than three and a half hours."
This production contains mature themes including language, sexual content, and violence.
Admission is $6 for adults, $4 for students, senior citizens, and those with a Drake ID. Tickets are available at the Fine Arts Center Box Office. Reservations, which are suggested, may be made in person or by calling 515-271-3841.