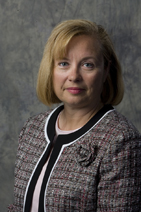 Dorothy Pisarski, associate professor of advertising in Drake's School of Journalism and Mass Communication, was named to the Iowa Soccer Association's Board of Directors. As a 501(c) (3) organization, Pisarski plays a critical role as board treasurer.
The Iowa Soccer Association oversees adult and youth soccer, at both recreational and competitive levels, across the state. Approximately 35,000 youth and adult players and 4,000 coaches are under the umbrella of the Iowa Soccer Association.
Pisarski is a United States Soccer Federation (USSF) certified soccer referee, is the daughter of a semi-professional goalkeeper, and the mother of a college soccer player. She knows firsthand the benefits children and adults can gain from the sport of soccer.
For more information, contact Dorothy Pisarski at dorothy.pisarski@drake.edu or call 515-271-1857.