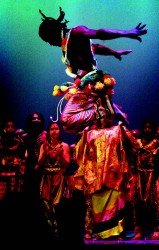 On March 28, Diadié Bathily will visit Drake University to conduct a West African Dance Workshop as part of The Comparison Project's spring programming. The workshop will consist of a lecture followed by a demonstration where students will have the opportunity to develop dance techniques and learn about the culture of West Africa. The event is from 12:15–1:45 p.m. in Studio 55, Harmon Fine Arts Center.
Bathily has danced professionally for over 30 years on stages in Africa, Europe, and North America. He is a world-renowned dancer, choreographer, instructor, and costume designer. He has conducted master classes and workshops throughout Europe and North America and has performed with or choreographed for such notable companies as the Cleo Parker Robinson Dance Ensemble, the Katherine Dunham Centers for Arts & Humanities, Ecole de Danse et d'Echange Culturel with Ms. Marie Rose Guiraud, and Broadway Dance Center. He is the recipient of the N'gowa Prize for dance on the Ivory Coast.
In 2003, Bathily founded a nonprofit dance company, Afriky Lolo (Star of Africa) with troupes for adults, adolescents, and children. The company has performed and presented workshops all over the United States.
The Comparison Project is an experimental effort in a philosophy of religion that is historically grounded and religiously diverse. It is generously supported by the Drake University Humanities Center, Humanities Iowa, the Medbury Fund, the Drake University Principal Financial Group Center for Global Citizenship, the Des Moines Area Religious Council, and Cultivating Compassion: The Richard Deming Foundation.
For more information on The Comparison Project:
• Visit The Comparison Project: www.comparisonproject.wordpress.drake.edu
• Join the email list: www.lists.drake.edu/mailman/listinfo/comparisonproject
• 'Like' on Facebook: www.facebook.com/drakecomparison
• Follow on Twitter: @drakecomparison
• Email The Comparison Project: comparisonproject@drake.edu