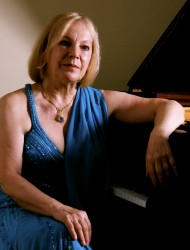 Drake University's Keys to Excellence Piano Concert Series will continue on Monday, March 24 with pianist Marina Horak. The performance will start at 7:30 p.m. in Drake University's Sheslow Auditorium, located at 2507 University Ave, and is free and open to the public.
Horak is a Slovenian pianist of Polish-Macedonian descent who has spent much of her life in Munich, Paris, Holland, and London. She returned to Slovenia in 2001 where she became associate professor of chamber music at the Academy of Music in Ljubljana. At the same time, she sustained a very active performing schedule.
Horak has performed in Turkey, Croatia, Bulgaria, the Czech Republic, Germany, Serbia, Denmark, Italy, Montenegro, and Kosovo. Since 2006, she has played extensively in the United States. She has also performed at many festivals throughout the world.
Devoted to pedagogy, she created the elective subject "Dimensions of Performance" at the Academy of Music in Ljubljana, where she uses her own specific approach to guide young people toward a better understanding of themselves and a deeper, genuine musical expression.
The Keys to Excellence Piano Concert Series was created to raise awareness of Drake's fundraising efforts to purchase of 70 new Yamaha pianos for the music department. The series features internationally acclaimed artists performing on the magnificent Yamaha CFX concert grand, an instrument that debuted in 2010 to rave reviews for its revolutionary sonorous clarity and extensive tonal range.
The Yamaha CFX was recently purchased for Drake University through the generous support of Sally B. Bartlett, who was recognized at a concert on Dec. 8, 2013.
The final event in the series will be held on Monday, March 31 at 7:30 p.m., featuring Anthony Molinaro, assistant professor of piano at Loyola University in Chicago.
The Keys to Excellence Piano Concert Series is sponsored by Yamaha, West Music, Civic Music Association, and Drake University.
For more information, contact Nicholas Roth at 515-271-2857 or nicholas.roth@drake.edu.