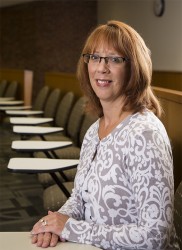 Raylene Rospond's strong work ethic and leadership skills have been invaluable to Drake University since joining the faculty in 1997 as associate professor and associate dean. She quickly advanced in her responsibilities, becoming chair of the pharmacy practice department in 1999. In 2003, she assumed the role of dean of the College of Pharmacy and Health Sciences (CPHS) where she served for ten years.
"When it comes to a strong work ethic and an enormous skill set for leadership, there are few people who surpass Raylene," says Drake University Provost Deneese Jones.
In June of 2013, Rospond became deputy provost for the University, leading Strategic Plan initiatives and serving as co-convener with Debbie Newsom for the Strategic Budget Working Group.
As deputy provost, Rospond participated in the Council of Independent Colleges (CIC) and the American Academic Leadership Institute's (AALI) yearlong Senior Leadership Academy. She was one of 26 mid-level administrators in higher education nationwide to be selected for this prestigious program.
As CPHS dean, Rospond spearheaded a number of advancements for the College. Under her leadership, the College enhanced its physical facilities; improvements include the creation of the Ellis Pharmacogenomics and Disease Prevention Laboratories, establishing student lounge areas in the Cline Hall of Pharmacy and Science, a number of classroom remodels, and construction of the Morgan E. Cline Atrium for Pharmacy and Science. She also advocated for additional resources to support the new health sciences and experiential education programs.
Rospond has received numerous honors over the years, including the Innovations in Teaching Award from the American Association of Colleges of Pharmacy, the Pioneer Award from Progress Industries, and the Robert G. Gibbs Distinguished Pharmacist Award from the Iowa Pharmacy Association, among others.
In June, Rospond's successful chapter at Drake will come to a close as she takes her leadership to Manchester University in Indiana to serve as vice president and dean of the College of Pharmacy. Her final day at Drake will be June 20, 2014.
"Her resignation is certainly a loss for Drake," says Jones. "But we share in her excitement for the opportunities that are to come in her new position at Manchester."