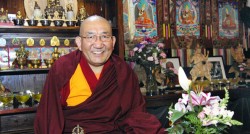 On March 5, Arjia Rinpoche, a world renowned Tibetan lama, will visit Drake University to deliver a lecture as part of The Comparison Project's spring programming. Rinpoche will discuss Buddhist concepts and meditation practices, and share his thoughts on achieving eternal peace through non-dualistic means. The lecture and discussion will begin at 7 p.m. in Cowles Library Reading Room, 2725 University Ave.
At the young age of two, Rinpoche was recognized by the 10th Panchen Lama as the reincarnation of Lama Tsong Khapa's father and the abbot of Kumbum Monastery. During political movements, Rinpoche forced to work in a labor camp for 16 years. In 1979, he was reinstated as abbot of Kumbum and advanced in the governmental hierarchy. Eventually, Rinpoche decided to settle in Mill Valley, Calif. where he established the Tibetan Center for Compassion and Wisdom. In 2005, he was appointed by the Dalai Lama as director of the Tibetan Mongolian Buddhist Cultural Center in Bloomington, Ind. Both centers are dedicated to the preservation of Buddhist teachings and Tibetan art and culture.
Rinpoche has been engaged with various charities over the years. He is currently involved with constructing the Cancer Care Treatment Center for Mongolian Children.
The Comparison Project is generously supported by the Drake University Humanities Center, Humanities Iowa, the Medbury Fund, The Principal Financial Group Center for Global Citizenship at Drake University, the Des Moines Area Religious Council, and Cultivating Compassion: The Richard Deming Foundation.
For more information on The Comparison Project:
• Website: www.comparisonproject.wordpress.drake.edu
• Email: comparisonproject@drake.edu
• Facebook: Comparison Project at Drake University
• Twitter: @drakecomparison