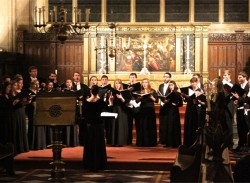 The Drake Chamber Choir spent more than ten days touring England in January, where they sang in some of the country's most prestigious performing venues, including sites in Oxford, Cambridge, Stratford-upon-Avon, London, Ely, Coventry, and Gloucester. In London, the 30-voice ensemble performed at St. Paul's Cathedral and St. Martin-in-the-Fields, where they represented the United States in a new performing arts series that presents outstanding vocal and instrumental groups from around the world.
The Drake Chamber Choir was chosen by audition to perform at the inaugural concert of the series. Additionally, the group performed in the cathedrals of Coventry, Gloucester, and Ely, as well as at Merton College Chapel, Oxford University, and St. John's College Chapel at Cambridge University.
"The students presented eight really phenomenal performances in some of the most stunning venues in the world," says Aimee Beckman-Collier, director of choral studies and professor of conducting. "They were able to adjust to various acoustics beautifully and received high praise for their efforts.  I was proud of their exceptional level of musicianship and engagement with the music and the audiences for whom they performed.  It was thrilling to witness the impressive way in which they represented Drake and the U.S."
The choir is comprised of students from a wide variety of academic disciplines. When members audition for the choir, they are tested on their vocalization, sight-reading, tonal memory, and overall singing ability. They are also asked to audition with others to gauge how they work collaboratively.
Choral ensembles at Drake have toured internationally since 1992 and have performed in major venues across the globe, including those in Italy, Austria, Germany, the Czech Republic, Wales, and Ireland, as well as in the United States. Each tour has enabled students to grow in cultural awareness and understanding, personal knowledge, and the ability to meet the intellectual, physical, inter-personal, and musical challenges of daily rehearsals, performances, learning, and travel.
The tour was made possible thanks to various fundraising efforts and generous gifts from alumni. The group had to raise $120,000 for the tour.
"The students had to rehearse and perform every day. They worked hard to develop a high level of consistency throughout all the performances and were able to find and create increasing depth and nuance in the music as they performed each day," says Beckmann-Collier. "In the preparatory stages before the tour we talked a great deal about this 'go deeper' aspect of music-making and learning and I'm happy to report that the students not only learned a great deal about British culture, history, and music, but much about themselves as well, through the music."
Thomas Florian, a senior majoring in marketing and finance with a minor in music, walked away from the tour feeling surprisingly refreshed.
"I learned how to appreciate the small things. As someone who is frantically moving through life with so many things happening at once, it was a nice to slow down and focus on one thing," says Florian. "I had the chance to learn so much more about England, my fellow choir members, and myself."
While the rehearsals and performances took up a considerable amount of time during the group's visit, they did have the opportunity to explore London for two full days and learn about England's history and culture as they toured.
"Touring England allowed me to observe the differences between our cultures," says Chelsea Dubczak, a junior majoring in vocal performance. "For instance, in America, it seems as though we are focused on accomplishing things as quickly as possible and are extremely time efficient, whereas the English seem to enjoy taking their time. Each culture operates differently, despite the general impression that we all live similarly."
The group returned to campus on January 22 and is preparing for a series of spring concerts, including a regional tour March 12-16, when the Chamber Choir and Drake Choir will perform at locations across Iowa, Illinois, and Indiana.