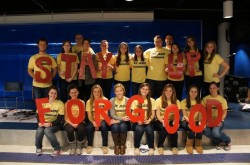 The mission of St. Jude Children's Research Hospital is to advance cures and means of prevention for catastrophic pediatric diseases through research and treatment. Some families must stay at the St. Jude facility for extended periods of time, but no family is required to pay for services. With high operating costs, the facility could not function without the tireless fundraising efforts of groups across the country like Phi Delta Chi, a national pharmacy fraternity with a chapter at Drake's College of Pharmacy and Health Sciences.
Up 'Til Dawn, an annual event sponsored by Phi Delta Chi and benefiting St. Jude, is a popular event on many college campuses. This year, St. Jude reached out to all campus organizers to help the event look consistent across the country.
"In the past it has been a letter writing campaign, which we called 'Up 'Til Dawn.' But it didn't really have a solid meaning because the event would be from 7 p.m. to 11 p.m. That's not really 'up 'til dawn,'" says Hannah Stonewall, one of the executive directors of the event.
The all-night event held true to this year's theme of "Stay Up for Good," starting at midnight and ending at 6 a.m. with a pancake breakfast and prize ceremony. A local family staying at St. Jude during their 4-year-old son's treatment spoke at the event about their experience with the hospital. Their son is now healthy and the family is grateful for the assistance St. Jude provided.
The event on Drake's campus was a huge success, partially due to the national rebranding effort but also because of the efforts of Ellie Ross, a sophomore pre-pharmacy major in charge of publicity. Tabling events and other promotional efforts began as early as August, generating more involvement and helping the group raise a total of $29,000.
"This year's event was a big success and we look forward to growing the effort even further next year," says Stonewall.