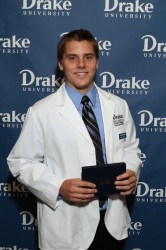 Drake University's College of Pharmacy and Health Sciences (CPHS) was one of four schools to receive a $125,000 gift from Cardinal Health to fund scholarships for pharmacy students interested in careers with independent pharmacies.
Thomas Walters, a PharmD and M.B.A. candidate at Drake, is the first student to benefit from Cardinal Health's generous gift.
"The selection committee was impressed with Tom's balance of experience in independent pharmacy, along with his commitment to professional organizations and campus involvement," says Renae Chesnut, professor of pharmacy practice and associate dean for academic and student affairs. "He was selected for his understanding of the importance of independent pharmacists, possessing both outstanding clinical and entrepreneurial leadership skills, and his demonstrated commitment to advocacy efforts."
CPHS faculty and staff recognize independent ownership as a viable, meaningful career path and an essential component within the spectrum of health care services. Cardinal Health selected Drake University as a gift recipient because of the University's ongoing effort and commitment to support independent pharmacy practice.
Walters, a P4 from Milwaukee, Wis., has been working in an independent pharmacy while studying at Drake.
"I became interested in independent pharmacies because I worked in some chain pharmacies before and wanted to try something new," says Walters. "Independent pharmacies were less interested in the volume they were producing and more interested in building one-on-one relationships. Being able to build those relationships was a very cool experience for me."
Walters is currently on rotation at Eli Lilly, a pharmaceutical manufacturer in Indianapolis, where he is working with insurance companies to expand access to certain medications. His work helps patients get the medications they need at a lower cost.
"The part I like most about working at Eli Lilly is being able to use my clinical background and business skills in the same setting," says Walters. "It was great to be able to add the perspective of a health care professional when looking at business strategy and ways that the company could better serve the patient. I also really enjoyed working with the employees at Lilly and in a culture that was so receptive to new ideas and ways of thinking."
Walters plans to build an independent pharmacy and use his business background to help him run the company.