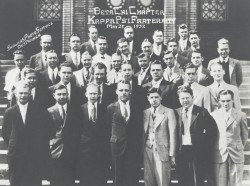 Recognize anyone? This is the composite photo of Kappa Psi fraternity in 1932.
Reconnect and reminisce by viewing hundreds of pharmacy fraternity composites on the CPHS' website. Click here to browse through composite photos from Kappa Psi, Phi Delta Chi, and Lambda Kappa Sigma fraternities.
Can't find your composite photo? Please send a copy to the College of Pharmacy and Health Sciences, 2507 University Ave., Des Moines, Iowa, 50311. All original prints will be returned.