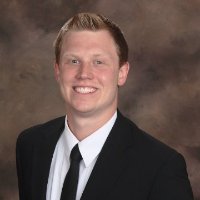 Encouraging responsible global citizenship and understanding is an important aspect of the Drake education. Mitch Webster, a P4 student in Drake's College of Pharmacy and Health Sciences, had the opportunity to advance his understanding of global responsibility as the United States' representative at the World Youth for Ethics in Business Forum in Brussels, Belgium, this November.
Drake University President David Maxwell nominated Webster for the conference, and he became one of 60 students from around the world chosen to participate. The weeklong conference from November 9–16 brought young professionals ages 18 to 35 together to learn about ethical business practices. Additionally, participants spent time at the European Union and engaged in workshops with EU leaders.
"Mitchell has been a great asset for this year's forum, always doing more than what was comfortable for him," says Camille Abgrall, executive director of the World Youth Forum for Ethics in Business. "He really stretched beyond reasonable limits for the group's goals' achievement and supporting his peers. The excellence of his participation and dedication to foster ethics in the world is outstanding."
In 2013, Webster was awarded the Lon Larsen Engaged Practitioner Award, given to a third-year doctor of pharmacy student who demonstrates high ethical standards, reflective practice, innovation, and community service. Webster says the Forum offers a unique opportunity to engage with other young leaders from around the world.
"The people who go to this conference go on to do great things in health care," says Webster. "It was exciting to learn from this experience and have the opportunity to bring new ideas back to campus."
The World Youth Forum for Ethics in Business aims to create an international discussion of the global, economic, and political atmosphere. This program is part of the International Business & Leadership Symposium, an annual event that brings leaders from business, politics, religion, and academia together to share ideas on how to best strengthen values and ethics in the world of business.