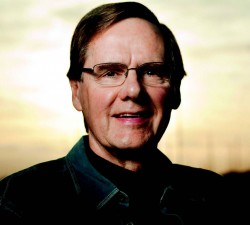 As Drake University aims to create the leaders of tomorrow, Bob Johansen—futurist, author, and distinguished fellow at the Institute for the Future (IFTF)—challenged the Drake community to look at leadership from a different lens.
Johansen delivered a lecture in Sheslow Auditorium on October 8, discussing the driving forces that are shaping our society and the 10 essential skills for effective leadership in the 21st century.
"Leaders must learn how to listen through the noise of a VUCA (volatile, uncertain, complex, and ambiguous) world," says Johansen. "This world is threatening, but it's also extremely hopeful, and there are ways to flip that frightening aspect of the future into opportunities."
Through a series of video clips, Johansen sketched a not-so-distant future in which students personalize their education curriculum, patients use home devices to diagnose medical issues, military members learn combat techniques through large-scale game simulations, and everyone accesses the Internet and other digital services through special contact lenses rather than a traditional screen.
In short, Johansen says, the future is extremely complicated—and harnessing its vast opportunity requires core leadership skills including clarity of vision, understanding, and empathy.
"Listening for the future is hard work. But leaders can make a better future," says Johansen. "We need not and should not passively accept any future as a given.
Disciplined use of foresight can help leaders make better decisions. There is short-term value in long-term thinking."
Johansen is the author or co-author of eight books. His latest book is the second edition of Leaders Make the Future: Ten New Leadership Skills for an Uncertain Age, with contributions from the Center for Creative Leadership.
Conducting workshops based on his books, Johansen has coached a wide range of corporations, including Kellogg's, Disney, Intel, Wal-Mart, Syngenta, Johnson & Johnson, UPS, and McDonald's.
As a distinguished fellow at IFTF, he draws on his training in the social sciences and his extensive experience at the edges of multiple disciplines as he interacts with leaders to encourage thoughtful consideration of the long-term future, using foresight from IFTF's 10-year forecast to kindle insight and action.
"This is the most frightening 10-year forecast I've ever been involved with," says Johansen, who has spent nearly four decades helping organizations around the world prepare for and shape the future. "What I hope I've done tonight is to scare you a little bit, but empower you a lot. You are so well positioned here in Iowa, and here at Drake, to take this VUCA world and pull it in and flip it out as an opportunity."