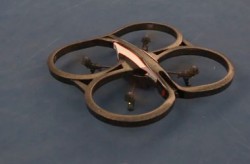 Drake's journalism program has taken flight.
This fall the E.T. Meredith Center for Magazine Studies at Drake University invested in a remote-controlled aerial drone equipped with two high-definition video cameras. Students in several journalism classes are using the device, which weighs less than one pound and can fly to a maximum altitude of 160 feet, to explore the potential risks and rewards associated with emerging surveillance technology.
"I want a Drake education to really be an experience," says Chris Snider, assistant professor of practice in multimedia. "To me, part of that experience is having access to cutting-edge technology and discussing the possibilities that emerge from them. We're in a rapidly changing media environment that requires continual, careful attention to innovation."
Students fly the drone using controls on the screen of an iPad tablet. Four powerful fans allow the device to ascend and descend, bank in any direction, or even execute a barrel roll. It's an easy-to-use device that has found professional application in emergency management, news reporting, advertising, and even real estate sales.
With so many angles to pursue, Drake's drone exploration is poised to take journalism classes to new heights—provided operators keep a roof over their heads. Drake faculty have indefinitely restricted flight to indoor areas, such as the University's tennis center, until important legal questions are resolved. The Federal Aviation Administration recently grounded drone programs at the University of Missouri and the University of Nebraska-Lincoln, pending certification for outdoor operation.
Lori Blachford, the Peggy Fisher and Larry Stelter Chair of Magazine Journalism, says the flight restriction presents a valuable teaching moment. Students are learning to balance professional application of new technology with the legal and ethical issues that arise from those tools, including their access to areas where individuals previously had a presumption of privacy.
"We've built ethical and legal issues into several areas of the curriculum, including our journalism law course," says Blachford. "The venues in which we often hear about drones these days—on the news, in military application—our drones are definitely not the kind of drones they're talking about. But it fuels a broader conversation that is important for all of us to be having."