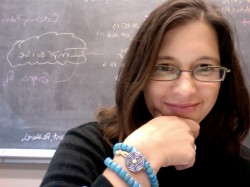 Despite the hot temperatures and relentless humidity at convocation this fall, administrators, faculty, staff, and students gathered together at Helmick Commons to kick off the school year.
The fall convocation was a success thanks in part to Renee Cramer, director and associate professor of law, politics and society, who served as the keynote speaker for the event. The overwhelmingly positive response to her speech has led us to share it with you here.
Apologies and Stuffed Animals, A Convocation Address
By: Renee Cramer
Thank you. I am honored to be our convocation speaker this year, and to be on this platform with Drake University's excellent leadership team, in the presence of my faculty colleagues. And, to be standing in front of you on such an important day.
I want to give you a piece of advice. Of course, I do. This is a convocation speech. So, let's dispense with the advice quickly.
If you're ever asked to give a convocation speech, do not Google "Great Convocation Speeches" or "Wonderful Convocation Addresses," and then watch YouTube videos of the likes of George Saunders, David Foster, Wallace Foster, Barack Obama, and Tina Fey. Because you will become disheartened and think, "How can I ever do that well? How in the world will I ever hold their attention like Tina Fey? How will I ever impress them?"
And that line of thinking led me in two directions: stuffed animals and an apology.
We're going to start with the apology.
I owe one of you, sincerely, an apology. I don't remember your name, and I wouldn't embarrass you by using it. But you are a student in my major, and we met for the first time at summer orientation, and I was your advisor. We had a good conversation about your plans for the semester, and we started to talk a bit about your plans for the future. You said you might be interested in law school, and you asked what law schools looked for. I answered a strong GPA, a high LSAT, evidence of commitment beyond yourself during your time at school, and strong letters from us, your faculty. I stressed that faculty letters are important. We get to know you, and we can write well and clearly about your strengths and weaknesses. Your response was that you should try to impress us, then.
And I think I got a little self-righteous—a little overly earnest. I said, "Please. Don't try to impress us." "I said, "Try to learn instead, stretch your boundaries—but don't let impressing us be your motivation."
The conversation stalled after that, you got away rather quickly—and 6 weeks later—in a panic in the middle of the night, wondering how I would impress you, today: I realized what bad advice I had given you. Of course you should try to impress us. Of course you should. But not the way that you think you will impress us (you know—by being perfect—by getting straight A's—by never troubling us, by hurrying through)—no. What I should have done is ask you to reframe that. Rather than think about how you can impress me—or us—start thinking, today about the impression you will make upon us. What mark will you leave here, to let us know you were a Drake student?
So, better advice on my part, to you, would have been to give you some examples of Drake students who have made an impression on this institution—or on its individual faculty—on me. I thought I'd take a moment, to do that, now.
I am already impressed by the person to whom I am apologizing. You already impress me—you've taught me a lesson about listening, and you've taught me a lesson about being gutsy and motivated and focused. You have a dream for yourself, and a strategic vision of how to get there, and willingness to state it to a stranger. Impressive.
I'm impressed by another incoming law, politics, and society major. We met and talked about books. I recommended you read Agamemnon—a Greek tragedy. And you did—over the summer—and emailed to tell me about it. Impressive.
I am impressed by the first year student last year, who took a very different route with her fist paper for me, than anyone else in the class did. Everyone else played it kind of safe—they wrote the obvious—and did a good job. She went out on a limb, and impressed me.
I am impressed by so many of my former students: By the one who is doing a four-year fellowship in administrative practice with the federal government, after earning her degree in social work; by the one who is in graduate school to be a librarian, another in school to be a dietician, another who is C.F.O. of a major health insurance technology provider; another who teaches in Chicago's public schools. They all came to college "pre-law," and I am impressed by their ability to change their minds and find what work will be meaningful to them.
I'm also impressed with my students who are in law school, and who post funny stuff to Facebook about it, and offer encouragement to our majors. Especially, I'm impressed by one who went to University of Minnesota, and had her dream internship this summer in D.C., with Lawyers for Civil Rights, and she got to meet one of the authors that we have read together, and she introduced herself to her, even though she was nervous.
I am impressed by a student of mine, who came to me, and stood in my office door, and said, "Dr. Cramer, I'm dumb. My whole family struggles with thinking. But it is my goal to finish college," and he was wrong of course—he isn't dumb, but he does have to work hard to learn things from books—and he was right, he did finish college, and I am endlessly impressed with the work he did.
I am impressed with my student who came into reproductive law and politics adamantly "pro-choice" and he learned to see the so-called opposing view, by dialoguing with someone who came in adamantly "pro-life" and who learned to nuance that position quite a bit. I am impressed by the pharmacy and health science, finance, and actuarial science majors who take my heavy reading load humanities and social sciences classes to satisfy AOIs, and challenge themselves with a different way of thinking, while they challenge the norms and assumptions of my classroom in really fruitful ways.
I am impressed with the student who began his transition from male to female as he took a class with me.
I am impressed by the student who plagiarized and when I found it she asked me —not how could she pass the class—or not fail the paper—but how could she make it right. I am impressed that she did what I told her she'd need to do, just to make it right—even though she still failed the paper. I am impressed by her accountability to her mistakes.
I am impressed with Drake's student athletes. They work hard. And, I'm impressed by the ROTC students who run three miles before an 8 a.m. class. And I'm impressed with our Model United Nations and Model Arab League students, and with the science students who present their work in DUSCI, and those of us who do service-learning.
I am impressed with CBS, for inviting faculty to come to their home and listen to their experiences and then joined together with all of the multicultural organizations on campus to put on a great community BBQ.
I am impressed by my student from a small town in rural South Dakota, who did an internship in Washington D.C.—it was the farthest she'd ever been from home, and now she is teaching English in China. I'm impressed by our four students awarded Fulbrights last year!
My husband works at Drake, too—he's a groundskeeper—he does plants and mows lawns and trims trees. In the winter, he shovels snow. Last year, at around 8 at night, during a huge blizzard, a student walked out of Olmsted and handed him a cup of hot chocolate, and told him thank you for his work. I don't know that student. But she impresses me.
There are lots of ways to make an impression here at Drake—lots of ways to make an impression that is positive. All of my syllabi state my expectations for student behavior, and my hopes for your learning. I ask that you enter my course with a fair measure of compassion—for yourself and for others; and curiosity—about yourself and about others. Today, I ask that you enter Drake with the same attitude—compassion for the mistakes you'll make, and the mistakes we will make in serving you; and curiosity—rather than certainty, about what's ahead.
This brings me to stuffed animals—almost.
I have practiced yoga and meditation for more than 20 years. One of the greatest gifts of that practice is the invitation. Every time I step on the mat or take a seat for meditation—the invitation to set an intention. What do I want this practice to be? Who am I holding in my heart? What is the quality of my breath, and how could it come easier, or sweeter? What's lovely, is that, after dong this for 1,000 or more times, I am reminded to take that practice with me into daily life. I set an intention before I go into teach every class. I set an intention before I go into a meeting.
Let me be clear: these are not always LOFTY intentions. Sometimes, my intention is "Don't fall asleep!" Or, "Don't be mean!" Or, like today, "Don't mess up!" Sometimes, I rephrase these more positively—"Stay awake!" "Be kind!" "Be careful!" When I'm out on a run, my intention is often simply: "Don't give up," or "Make it to the top of the hill."
As I started to write this speech, I realized that I had some unspoken intentions in operation, like "Impress them." And really—that's not the place I want to come from today—the place I want to meet you. Rather, today, I want to help you feel welcome, to put you at ease a bit, to challenge you a bit by describing some amazing Drake students—students willing to push boundaries of their own preconceptions and students who set profoundly powerful personal intentions for themselves and strive to meet them.
Here's the deal—intentions aren't goals, and we shouldn't confuse them, though we often will. From the age of about 14 on, my goal was to be lawyer. And it wasn't until the day I graduated college, and decided not to take the seat in the law school class to which I'd been admitted, that I realized that my goal to be a lawyer didn't line up with an intention I had set as an eight-year-old. Back then, I had an enormous stuffed animal collection—enormous—I had more stuffed animals than friends, and I was the kind of kid who liked to spend hours with them—reading to them, and lecturing to them. Teaching them.
I created this imaginary world where I ran a bed and breakfast that had a library. And the stuffed animals were my guests, and they had to sign up for particular classes on topics I was interested in—like "Egyptology," "Norwegian myths," and "female authors of the Civil War," and I would plan menus, outings, and readings for my stuffed animals.
Aside from my dad, who was for a time a lawyer, but who didn't live with us—no one in my family went to college—I am the only one of seven kids spread out over two step-families, who has. So, I had no idea, when I was eight, what a college professor was or did—but I set an unknowing intention back then, to live a life filled with books, and food, and conversation—to find a career that enabled me to walk into a room full of ewoks, and dolphins, and puppies —you know, a college classroom—and teach, and learn.
I am thrilled to have the life that I do, the honor of sharing four years with you to explore and grow. And I am very lucky that I didn't let my goals override my deeper intentions.
So, as we move forward into the year together, I will ask a favor of all of you. Please, for a brief moment or two, before it all begins, forget where you're going next. Forget what your career will be, and how you will get there.
Instead, set an intention for yourself—for how you will live with integrity in this place, for the four years that you are here. What will you learn? How will you grow? How will you contribute to this place? How will we know that you have been here?
How, indeed, will you impress us?
Thank you for your kind attention today—and thanks in advance for the ways that you will improve the quality of our community.