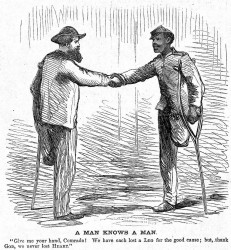 With the 150th anniversary of the American Civil War upon us, Drake University is offering a unique way to remember the period. Beginning Nov. 7, the Anderson Gallery will feature the exhibit, "Draw Your Weapons, Civil War Cartoons from Harper's Weekly."
The idea originated with Maura Lyons, associate professor of art history, when she spent two weeks with 30 professors from across the country studying the Civil War and its imagery in a summer institute sponsored by the National Endowment for the Humanities, held at the City University of New York. She was inspired on many levels, she says, and when she returned, she began cultivating her vision for an exhibit at Drake.
"This exhibit offers a chance to think about the period in a way that maybe people haven't before—through the medium of the cartoon," says Lyons of the less explored part of the war's visual culture. "So many of these issues remain relevant. It really is a chance to think about where we are now, to gauge what has changed or not changed. There are definitely some conflicts, disputes, and prejudices that haven't disappeared today."
Art students from a variety of courses have helped Lyons design and install the exhibit. Thanks to a grant from the provost's office, Lyons was able to hire a student research assistant this summer to help her catalog and develop a website for the exhibit.
"A project like this gives me the chance to work with students in a different way," she says. "It's a very rewarding experience."
While curating this exhibit, Lyons made connections that extend beyond Drake. Community groups, including the Des Moines Civil War Round Table, have become involved. The organization wrote letters of support for the exhibit's grant applications and John Liepa, its program chair, served as a consultant for the show. The organization is also planning an event with the curating class. Lyons hopes that getting outside organizations involved will expand the audience for the gallery.