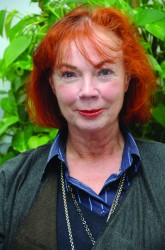 On Oct. 24, The Comparison Project is hosting Barbara Stafford, Distinguished University Visiting Professor at Georgia Institute of Technology School of Architecture, to speak on finding precise ways of bringing neurobiology, cognitive science, and the new philosophy of mind together. Following the lecture, Lenore Metrick-Chen, associate professor of art history at Drake University, will give a response to Stafford's lecture. This event, which is free and open to the public, will take place at 7 p.m. in the Cowles Library Reading Room.
Stafford is an independent writer, curator, and speaker. Her work has consistently explored the intersections between the visual arts and the physical and biological sciences from the early modern to the contemporary era. Her current research charts the revolutionary ways the neurosciences are changing our views of the human and animal sensorium, shaping our fundamental assumptions about perception, sensation, emotion, mental imagery, and subjectivity. Stafford's most recent book is The Field Guide to a New Metafield: Bridging the Humanities-Neurosciences Divide.
The Comparison Project is an experimental effort in a philosophy of religion that is historically grounded and religiously diverse. It is generously supported by the Drake University Humanities Center, Humanities Iowa, the Medbury Fund, the Drake University Principal Financial Group Center for Global Citizenship, the Des Moines Area Religious Council, and Cultivating Compassion: The Richard Deming Foundation.
For more information on the Comparison Project:
Visit The Comparison Project: www.comparisonproject.wordpress.drake.edu
Join the email list: www.lists.drake.edu/mailman/listinfo/comparisonproject
'Like' on Facebook: www.facebook.com/drakecomparison
Follow on Twitter: @drakecomparison
Email The Comparison Project: comparisonproject@drake.edu