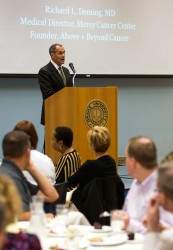 As the Affordable Care Act begins to take its course, many Americans are left with unanswered questions.
In an effort to help educate Iowans on the new program, the Drake College of Pharmacy and Health Sciences and Rahul Parsa, Principal Financial Group Distinguished Professor and professor of actuarial science and statistics, hosted a roundtable discussion that brought together a variety of experts. The focus of the roundtable was to discuss the rising health care costs and its impact on insurance affordability.
"I'm just trying to educate people," says Parsa of the collaborative event between the College of Pharmacy and Health Sciences and the actuarial science program. "This is a very important topic, so let's understand it and educate ourselves."
Parsa sought out pertinent professionals to speak at the roundtable, including the keynote speaker, Dr. Richard Deming. Deming is the medical director for Mercy Cancer Center Radiation Oncology in Des Moines and an active member in many different oncology organizations.
A diverse lineup of guest speakers provided varying viewpoints, including actuarial science, pharmacy, insurance, law, and medicine. Notably, the director of the Office of Health Insurance Exchanges at the U.S. Department of Health & Human Services, Joel Ario, was able to speak on a panel along with the CEO of Co-Opportunity Health and former insurance commissioner of Iowa, David Lyons.
"My primary goal at this roundtable was to bring new ideas and thoughts to the table," says Parsa, "I wanted to give people an idea of what's going on with health care, what the true costs are, and why costs are going up. This event provided greater understanding by bringing true subject matter experts to the public."
Because of generous support from the business community, including PwC, Aviva USA, EMC Insurance, and Principal Financial Group, the roundtable was able to be a free event open to the public.
Parsa has hosted roundtable discussions in the past and hopes to continue to bring current and important topics of interest to the Drake community.
"My ambition is to put Drake on the map. I want Drake to be known for hosting important discussions like this."