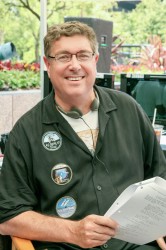 It turns out that art imitates life. A new CBS comedy series, "The Crazy Ones" starring Robin Williams, is based in part on John Montgomery's real-life experiences during 33 years in advertising. After seven years working in collaboration with creator David E. Kelley, Montgomery, LA'79, experienced his first prime-time television debut as executive producer.
The storyline of "The Crazy Ones" follows the interactions between a goofy father and driven daughter working together in the world of advertising. In launching the show, Montgomery had the opportunity to work with Academy Award winner Williams and Emmy Award winner and executive producer, writer, and creator Kelley, known for creating The Practice, Ally McBeal, Picket Fences, Boston Legal, Harry's Law, and many other television shows and movies.
We had the opportunity to talk with Montgomery about how his Drake education helped him reach his professional goals. Besides getting the inside scoop on the show, we learned how Montgomery continues to foster Drake's value of lifelong learning.
Montgomery at Drake
Like many Drake alumni, Montgomery remembers professors who took an interest in him.
"I took amazing TV classes from legendary professor Jim Duncan. He was brilliant. I learned so much about radio and TV from him. Poetry professor Thom Swiss was a great inspiration," recalls Montgomery. "Maurice LaBelle was a wonderful literature teacher who made an indelible impression."
Montgomery says he also learned about collaboration during his time on campus.
"Teamwork is important in production. In effect, you are creating a whole that is a sum of many parts. At Drake we worked in teams to produce radio, television, and film. I'm grateful that I had that experience."
Lifelong Learning
Montgomery is enthusiastic about the "caliber of talent" he gets to work with on "The Crazy Ones." He's been able to learn from many experienced professionals such as Kelley and Williams in developing the show.
Montgomery merged his stories with Kelley's imagination, and together, he says, they're bringing something new to audiences.
"(Kelley's) alchemy took my stories and experiences and turned them into a real show with fully realized characters that you find authentic and can care about," says Montgomery. "He is one of the greatest minds in television. He is really bringing [the show] to life—even though it's my stories."
Montgomery says he's learned from Williams, too.
"Robin Williams is a super genius and really a nice person. He is the best person you can imagine working with," says Montgomery. "He is a hybrid of a world-class comedian and a Julliard-trained super genius actor."