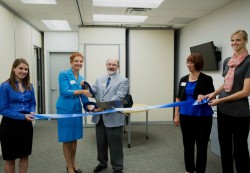 The Johansen Skills Assessment Laboratory opened its doors with a special reception on Oct. 4. This new, state-of-the-art learning space, made possible by a lead gift from Greg Johansen, PH'76 to distinctlyDrake, allows students, faculty, and staff to collaborate and learn in a flexible and intellectually stimulating environment.
"The Johansen Skills Assessment Laboratory enables faculty and students to design an environment that best suits their current needs," says Wendy Duncan, dean of the College of Pharmacy and Health Sciences. "A central function of the facility is empowering students to acquire, practice, and assess their performance in essential clinical skills. The space can be adapted for many other curricular and co-curricular uses."
Each of the collaborative learning spaces is furnished with modular tables and chairs and learning technology for projection from a laptop to a large screen television. The lab will be utilized in the Pharmacy Skills and Application course as well as in courses for the health sciences.
The Drake College of Pharmacy and Health Sciences takes pride in providing students with personal attention. Michelle Bottenberg, associate professor of pharmacy practice, shares that the new Johansen Laboratory is just one of many ways the CPHS is living out that mission.
"We love to provide students an individualized experience," says Bottenberg. "The flexibility of this new space is exciting. We can use the space as one large room or for one-on-one assessment and training. The new setup allows for more privacy when giving a student feedback."
In addition to being used for classes, the lab will be open in the evenings from 5:30 p.m. until 1 a.m. Students can use the space to study and collaborate with other students and faculty outside of class.
"We're receiving feedback from employers and internship providers that Drake students are very prepared for their work," says Bottenberg. "Having an asset like the Johansen Skills Assessment Laboratory will only help the College continue in that positive direction."