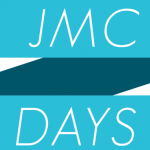 JMC Days will take place Oct. 21-25.
All week long
Treats in the Meredith breezeway!
Lunch with SJMC Mentors: First year SJMC majors are invited to have lunch with members of the SJMC Advisory Council. Sign up through JMC30 and David Wright.
Guest speakers in classes: All students are invited to sit in on other SJMC classes all week for special speakers/events. See list below.
Monday, Oct. 21
Get Hired! Just What are Employers Looking for?!
6:00 p.m. in Meredith 101
A panel of professionals from various journalism and mass communication disciplines discuss what they look for in applicants for jobs and internships so you can land that dream position!
Panelists include:
Natalie Linville-Mass, Media Link
Joyce Allard, Special Olympics Iowa
Erin Moynihan, KCCI-TV
Julie Heuton, Two Rivers Marketing
Cory Kelly, Iowa Medical Society
Matt Sieren, Iowa Public Radio
Tuesday, Oct. 22
Mock interviews and resume reviews, 10 a.m. to 4 p.m., Meredith 111, Sign up outside rooms 119-120 Meredith.
Professional Photos—FREE 2 p.m. to 6 p.m. Digital palace, lower level Meredith, Get a free professional photo taken that you can use on LinkedIn, etc.
Wednesday, Oct. 23
Making the Rounds!
Presentation, employer roundtables and reception: 4:30-6:30 p.m. in Upper Olmsted
Professional Etiquette, Presentation by Lauren Burt, Corporate Communications Manager at Meredith Corp. will discuss presenting your professional image.
Employer Roundtables
Consider this your SJMC employer fair, with benefits! Here's your chance to network with area professionals in small groups—learn about their company/organization, what kinds of jobs the have and people they hire, ask questions, and get a chance to be
Professionals scheduled to attend include:
Joyce Allard, Special Olympics
Laura Barclay, John Deere
Lauren Burt, Meredith Corp.
Norah Carroll, Digital Marketing Strategist
Lucas Grundmeier, Des Moines Register
Nancy Itani, Dallas County News
Andy Hewitt, Strategic America
Goizane Mullin, Animal Rescue League
Theresa Sherwood, Drake Marketing Communications
Kathryn Towner, Win Communications
Dan Weeks, The Iowan Magazine
Reception and more informal networking at conclusion
U.S. Holocaust Memorial Museum historian to speak at Drake
7-8:30 p.m., Meredith 101
Dr. Ann Millin, an historian with the United States Holocaust Memorial Museum, will speak on "Nationalism and Nazi Propaganda". Millin, who received her Ph.D. In Jewish history from the Hebrew Union College — Jewish Institute of Religion, will be the keynote Speaker at the dedication of the Iowa Holocaust Memorial at the state Capitol earlier in the day. Millin is an historian in the Holocaust Museum's Leadership Programs division. She has been co-curator of the websites for two of The museum's special exhibitions, "State of Deception: The Power of Nazi Propaganda" and "Some Were Neighbors: Collaboration and Complicity in the Holocaust." Her speaking engagement at Drake is co-sponsored by the Jewish Federation of Greater Des Moines and the Drake School of Journalism And Mass Communication. The event is free and open to the public.
Thursday, Oct. 24
Mock interviews and resume reviews, 10 a.m. – 5 p.m., Meredith 111, Sign up outside rooms 119-120 Meredith.
Guest speakers in classes-all students invited
Drop in on these classes to hear speakers on specialty topics. It's your opportunity to hear from communications professionals AND preview courses!
Wednesday, Oct. 23
10 a.m. Mer. 124B David Miller, Producer/Director at IPTV, will be discussing writing
for broadcast in JMC54 Reporting and Writing Principles
12:30 Mer 124B Nicole Barreca (JMC alum) will discuss the World Food Prize promotions
in FYS17
Thursday, Oct. 24
11 a.m.-12:15 p.m.; Mer. 106. –Polk County District Court Judge Robert Blink will discuss media
coverage of the courts in JMC 104 Communications Law and Ethics