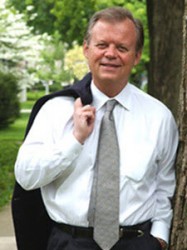 On Oct. 16, Ambassador Tony P. Hall, will deliver a lecture on "Combatting Global Hunger" at 7:30 p.m. in the Sussman Theater of the Olmsted Center at Drake University. This event is free and open to the public.
Hall is a well-known advocate for hunger relief programs around the world. He served as ambassador to the United Nations Agencies for Food and Agriculture (2002−2006), and is now the executive director of the Alliance to End Hunger, involving various institutions in developing public and political motivation to end hunger both in the U.S. and abroad.
Before his appointment as a diplomat, Hall served in Congress for more than two decades and was chairman of the House Select Committee on Hunger and the Democratic Caucus Task Force on Hunger. He created the Congressional Friends of Human Rights Monitors and wrote legislation to support food aid, child survival, basic education, primary health care, microenterprise, and development assistance in impoverished countries across the globe.
This event is sponsored by Dupont Pioneer, the World Food Prize, the Principal Financial Group Center for Global Citizenship, the Global and Comparative Public Health program, and the Heartland Global Health Consortium. For more information, contact David Skidmore at david.skidmore@drake.edu, 515-271-3843.