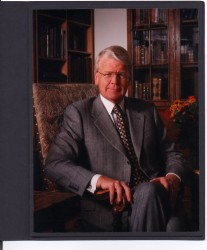 On Oct. 16, President of Iceland Ólafur Ragnar Grímsson will visit Drake University to deliver a lecture on global warming and Iceland's successful development of clean energy sources. Sen. Tom Harkin will be in attendance to provide an introduction for the event. This lecture, which is free and open to the public, will begin at 6:30 p.m. in Sheslow Auditorium, 2507 University Ave.
Grímsson is the fifth president of Iceland and the first Icelander to earn a doctorate in political science. He earned his B.A. in economics and political science and his Ph.D. in political science at the University of Manchester.
In his lecture at Drake, Grímsson will discuss how Iceland has transformed its energy system. Today, domestic, renewable resources provide 100 percent of Iceland's electricity and 100 percent of its house heating. Grímsson will share how this change has positively affected Iceland's economy, making it an attractive location for industrial developments, high-tech industries, data storage centers, and other thriving enterprises.
Support for Grímsson's visit to Drake University comes from The Harkin Institute for Public Policy and Citizen Engagement.
"Public policy around scientific and technological innovation is an area of focus for the Institute," says Marsha Ternus, director of the Harkin Institute. "Clearly, climate change is adding urgency to the development of renewable energy resources. We can learn from what others are doing to address this challenge."
For more information, contact Marsha Ternus, director of The Harkin Institute for Public Policy and Citizen Engagement at 515-271-3751 or marsha.ternus@drake.edu.