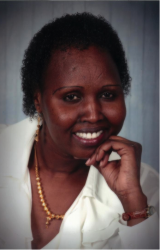 Abeny Kucha, author of Tears of a Mother, will deliver a lecture titled "A First-Person Account of Sudanese Survival, Sorrow, and Triumph" on Monday, Sept. 30 at 5:30 p.m. in Meredith Hall, Room 106 at Drake University. This event is free and open to the public.
In Kucha's book, Tears of a Mother, she shares her story as a citizen of Sudan who survived the civil war and genocide. In her lecture, Kucha will share her very personal story as a refugee as well as photos and videos from three of her return trips to Sudan.
Kucha's book and lecture send messages of hope to anyone who is pursuing their dreams. Her inspirational story reminds us that anything is possible if you set your mind to it.
This event is sponsored by the Principal Financial Group Center for Global Citizenship, Drake University School of Education, and the Heartland Area Education Agency.
For more information, contact Denise Ganpat at 515-271-2504 or denise.ganpat@drake.edu.