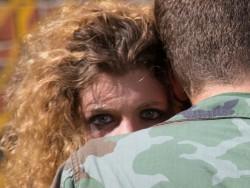 The Drake University Department of Theatre Arts will present "If We Were Birds" by Erin Shields beginning Thursday, Oct. 3 in the Studio Theatre of the Harmon Fine Arts Center. Performances start at 7:30 p.m. on Oct. 3–5 and 2 p.m. on Sunday, Oct. 6.
"When I first read the play it was an emotional experience for me," says John Graham, assistant professor of theatre arts and director of the show. "It scared me. It scared me a lot. I thought that if it could scare me just by reading it, then it was something I definitely wanted to work with and direct."
When Pandion, the King of Athens, rewards war hero Tereus with his daughter, Procne, he forces her to leave behind her dear sister, Philomela. Years later in Thrace, Procne is desperate to see her long-lost sister. Tereus agrees to facilitate the reunion, but once in Athens his true nature is revealed.
While the play takes place in what author Shields calls, "a timeless purgatory of nature," it does include a chorus of women representing survivors from recent conflicts: Nanking, Berlin, Bangladesh, Bosnia-Herzegovina, and Rwanda.
This production contains mature themes including language, sexual content, and violence. Keeping in mind the extreme relevance of the piece, Graham chose to collaborate with both the Women's Studies Program and Alysa Mozak, the University's coordinator for sexual violence response.
"As of right now, we will be holding a talk-back on Friday and Saturday nights. The talk-back will revolve around rape culture and rape as a weapon of war as represented in the play," says Graham. "We'll also discuss our process in producing this play."
Admission is $5 for adults, $3 for students and senior citizens, and $1 for those with a Drake ID. Tickets are available at the Fine Arts Center Box Office. Reservations, which are recommended, may be made in person or by calling 515-271-3841.