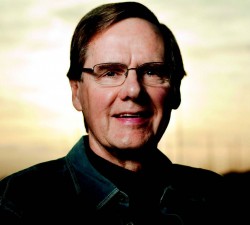 On Oct. 8, Bob Johansen, distinguished fellow at the Institute for the Future, will deliver a lecture at Drake University on leadership in the 21st century. The event will begin at 7 p.m. in Sheslow Auditorium, 2507 University Ave.
Johansen will discuss the ten critical skills that define leadership today, suggesting that traditional leadership skills and organizational behavior are not enough to succeed as a leader in today's society.
"Listening for the future is hard work. Leaders must learn how to listen through the noise of a VUCA (volatile, uncertain, complex, and ambiguous) world," says Johansen. "But leaders can make a better future. We need not and should not passively accept any future as given. Disciplined use of foresight can help leaders make better decisions today. There is short-term value in long-term thinking."
Johansen—futurist, author, and distinguished fellow at the Institute for the Future—has been recognized as the country's leading futurist for over forty years. He has traveled across the nation, presenting workshops to many major corporations and universities.
This event is sponsored by the Leadership Education and Development (LEAD), the Donald V. Adams Leadership Institute (DVALI) and the Office of the President at Drake University.