Michael Woods, 29, has dedicated 3 1/2 years to the Adult Literacy Center. He has been working with volunteer tutors to improve his reading level from third grade to post high school.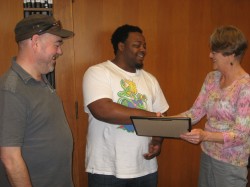 Mike is now working with Tutor Bill Barnes to earn his high school equivalency (GED). Mike is a self-employed musician who has performed around the country as a drummer with various groups. He is pleased that he can now read his contracts…and also to read with confidence to his young son.
Individuals interested in volunteering to be a tutor through the Adult Literacy Center should contact Anne Murr at 515.271.3982 or visit the website for additional information.  The next volunteer tutor training for the Adult Literacy Center will be held Friday and Saturday, September 6 and 7. Volunteers must attend both sessions. Friday September 6: 5:00 – 8:00 p.m. Saturday and September 7: 9:00 a.m. – 3:00 p.m.