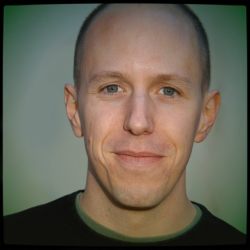 John August, JO'92, is one of Drake's many noteworthy alumni. His screenwriting credits include Go (1999), Titan A.E. (2000), Charlie's Angels (2000), Big Fish (2003), and Frankenweenie (2012). We had the opportunity to chat with him about his time at Drake and his latest adventure: Big Fish, premiering as a musical on Broadway this October.
Tell us about your Drake experience. What made it so special?
I originally chose Drake because it was just the right size. I like to describe it kind of like Goldilocks—not too big, not too small, but just right. I had the opportunity to build relationships, not just with friends and classmates, but also with my professors. Dr. Bob Woodward in the journalism school and Mary Edrington in the business school were incredibly helpful to me as a student, and they've been great since. I still keep in touch with Mary—she knows what I'm working on, and she fills me in on what's going on with her classes.
How did Drake influence your career path? 
I entered Drake as a journalism major, mainly because I knew what it was. And I really enjoyed the advertising track I took. But I recognized about halfway through that it wasn't really what I wanted to do for a career. Then I got introduced to this idea of a career in screenwriting. This was the pre-Internet time, when we didn't have as much access to the ways movies were made. When I was at Drake, I participated in a summer film program at Stanford and learned a tremendous amount. That's when I decided to go to graduate school for screenwriting, which eventually led me to writing the screenplay for Big Fish, the movie.
Attend the Big Fish on Broadway premiere party for Drake alumni in New York City on Sept. 28! Tickets for the show and pre-show reception are $150 ($135 for recent graduates, 2004-2013). The reception will start at 6 p.m. at etcetera etcetera, 352 West 44th St., and will include cocktails and hors d'oeuvres. The performance will begin at 8 p.m. at the Neil Simon Theatre, 250 West 52nd St.
RSVP by September 18 at www.alumni.drake.edu/bigfishnyc or 515-271-3147.
Reach out to John on Twitter! @johnaugust
Tell us about Big Fish, the musical.
Big Fish went from book to movie to musical. I responded to Big Fish, Daniel Wallace's novel, because it was able to talk about things that I personally would've had a hard time with. Big Fish is ultimately this larger than life tale about the relationship between a father and son. As we grow older, we see our parents as different people than we did when we were young. And now, for me, it's sort of come full circle. When I started the Big Fish project, I was much like the kid in the story, and now I have an 8-year-old daughter of my own.
Drake has a track record of producing hugely successful individuals like you. What do you think makes Drake grads so successful?
In the middle of the Big Fish project, I came back to serve on the Drake University Board of Trustees. I was able to see that even as the University has grown and the profile of the University has increased, the Drake experience is very much the same. It's friendly, but it's focused. It's demanding, but it's supportive. I've always seen the University as being student-centered. The University wants its undergraduates to have an amazing experience that prepares them for the future.
Any favorite memories of Drake?
During my senior year, I really wanted to take a voice class. There was this one-credit voice class that I took just for fun, and it ended up being one of the most useful things I've ever done. When I was working on Big Fish, the musical, I had to be able to sing all the songs. Not always, but sometimes. And, weirdly, that one-credit-hour class paid off.