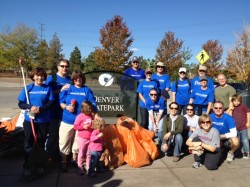 It's time again for Drake alumni and friends to unite for DU Good Day, an annual day of service that is quickly becoming one of the most impactful rallying points for the Bulldog community.
The third annual event, held at service locations across the United States, is scheduled for Saturday, September 28.
Last fall, more than 400 volunteers in 13 communities showed that Drake alumni, parents, friends, and future Bulldogs can make a difference. From assisting in homeless shelters to cleaning public parks, volunteers contributed hundreds of community service hours to positively impact their communities—all while chronicling their efforts through event webpage for up-to-date details and contact information. Then get involved.
Tory Thaemert, JO'05, is organizing service activities at Harvesters Community Food Network, where volunteers will sort food for distribution to families in need. She says DU Good Day allows her to live and share the values she learned as an undergrad.
"Thanks to our experiences at Drake, we all share the idea that responsible global citizenship is a key component to making a community thrive," says Thaemert. "Together, no matter our grad year or profession, we enrich our professional and personal lives by tackling a variety of projects that help people in need."
If you're interested in planning a service project in your area, contact Liz Tesar at elizabeth.tesar@drake.edu.