Nora Stelter, Andrea Kjos and Abebe Mengesha have been putting in long hours in an effort to improve patient care. The College of Pharmacy and Health Sciences (CPHS) professors have each recently received national recognition for their innovative projects, earning nearly $50,000 from competitive granting agencies.
"These grant awards recognize the achievements that our faculty are making in wellness, technology, and drug delivery systems," says Wendy Duncan, dean of the college. "We are fortunate to have passionate faculty members who pursue breakthrough achievements as called for in the CPHS Vision."
Interprofessional Lifestyle Modification Class
In a unique collaboration between pharmacists and Hy-Vee dieticians, Nora Stelter, assistant professor of pharmacy practice, was awarded the AACP/FMI Foundation Health and Wellness Pharmacy Practice Ideation Award for her collaboration with Hy-Vee on a project titled "Integration of Interprofessional Practice and Education in a Supermarket-based Lifestyle Modification Class."
Stelter received an award of $5,000 for her project, which aims to identify impressions of pharmacists, dieticians, and students regarding interprofessional collaboration prior to and after the collaborative delivery of a 10-week lifestyle modification class.
"Interprofessional education and collaboration is critical to enhance the training of our future healthcare professionals and improve teamwork to ultimately benefit patient care," says Stelter. "We are very excited to be partnering with Hy-Vee on this initiative, and to continue building what is already a strong relationship with this innovative company."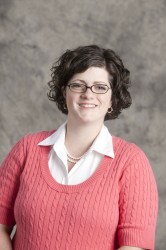 Diabetes Smartphone App
Andrea Kjos' 2012 project involved working on a smart phone application that assists patients in managing their medications. The assistant professor of social and administrative sciences was awarded the American Association of Colleges of Pharmacy (AACP) New Investigator Award for $10,000.
"Receiving this award was not only great recognition for Drake," says Kjos. "It's also great for patient care. Empowering patients to be able to self-manage their medications will ultimately improve patients' quality of life."
Kjos presented her findings at the AACP conference in Chicago this past summer.
Implantable Drug Delivery System
The 2013 AACP New Investigator Award for $10,000 combined with the Iowa NASA EPSCoR Research Building Grant for $15,000 will allow Abebe Mengesha to continue researching and developing a triggerable drug delivery system. The assistant professor of pharmaceutics is currently working on a system that can be implanted in the body—near a tumor, for example—to release a chemotherapy drug only as needed. Implantable drug delivery systems will allow for the delivery of medications to a targeted area in a safe and effective manner.
"The power to control the drug release could have a number of applications in various scenarios, including chemotherapy or as a smart medicine for a crew in space travel," says Mengesha. "A major challenge for drug delivery is to initiate and control release of the incorporated drug only at the target site. Particularly in chemotherapeutic agents, improving the delivery will significantly increase effectiveness and safety of the therapy."